'Don't F**k It Up': The 10 Best Lip Syncs From RuPaul's Drag Race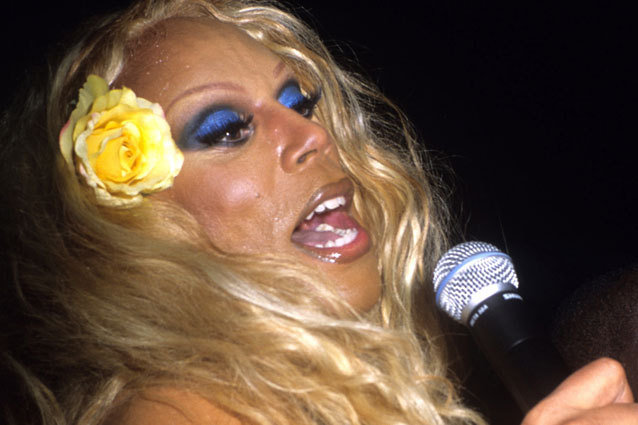 Foc Kan/WireImage
RuPaul's Battle of the Seasons tour may be wrapped up, but we're still hungry for some more Drag Race excitement. While we wait for the next batch of queens to grace our screens with more eleganza extravaganzas, let's take a walk down memory lane and take a look at some of the show's best lip syncs that left audiences gagging for more.
Latrice Royale & Kenya Michaels: "Natural Woman" (Aretha Franklin)
Latrice Royale is one of the most loved and most memorable queens on the show, and her Aretha Franklin lip sync against Little Kenya Michaels was absolutely chilling. While Kenya bounced around the stage like a bunny in heat, Latrice barely moved from her place, letting her face do all the talking. At that moment, Latrice was Aretha.
Raja & Carmen Carrera: "Straight Up" (Paula Abdul)
The awesome Alexis Mateo flat out referred to Raja and Carmen Carrera's lip sync as soft porn, so that should tell you enough. The 2 "Heathers" were gutted to have to go up against each other, but ended up turning out one of the most memorable performances in RuPaul's lip sync history. From Carmen stripping down to virtually nothing and Raja leaving her lipstick mark Carmen's shoulder, this lip synch was straight up hot.
Raven & Jujubee: "Dancing On My Own" (Robyn)
In the All Stars season, squirrelfriends Raven and Jujubee were forced to lip sync against each other to Robyn's "Dancing On My Own." The lip sync was extremely emotional, with Jujubee and Raven barely even having any oomph in them left to compete against each other. The performance was so moving that RuPaul uttered the magic words to both queens: "Chante, you both stay."
Alyssa Edwards & Coco Montrese: "Cold Hearted" (Paula Abdul)
This was it, guys!! One of the most anticipated sync-offs in Drag Race history. Alyssa Edwards and Coco Montrese made no secret of their history-laden, drama-filled beef with each other that seemed to transcend countries, eons, and wars. Although both queens had their ups and downs, they had somehow managed to avoid being pitted against each other in the be-all end-all lip sync… until now. Paula Abdul's "Cold Hearted" was ridiculously apt for the 2 stars and though Coco got to stay, Alyssa left us with some of the best moments from the show (see: "… Back rolls?")
Roxxxy Andrews & Alyssa Edwards: "Whip My Hair" (Willow Smith)
The only time we actually wanted to listen to "Whip My Hair" was during Roxxxy and Alyssa's crazy lip sync to it. The performance was full of helicopter hair-flinging and sharp dance moves, but when Roxxxy took off her wig only to reveal another wig underneath (!!!!), even RuPaul's jaw dropped to the floor. Roxxxy may have been petty at times, but she could bring it like no other. The legendary lip sync marked the first time that RuPaul let both contestants stay, because even she knew that all that hair-flipping was no joke.
Manila Luzon & Delta Work: "MacArthur Park" (Donna Summers)
What the hell was Manila on during this lip sync? No one will ever know, but we do know that whatever it was, it helped her churn out one of the weirdest yet fiercest performances ever. Looking smoking hot in her yellow Big Bird dress, Manila turned it up all the way – we're talking eyes popping out, mouth wide open, arms to the sky, crazy queen realness. Her performance was so good that she ended up sending fellow "Heather," Delta Work, home.
Jinkx Monsoon & Detox: "Malambo No. 1" (Yma Sumac)
Hands down one of the greatest lip syncs of all time – the lovable Jinkx Monsoon and the incomparable Detox. The showdown was bound to be intense, since both queens were extremely talented in completely different ways. As fiercely as Detox was bringing it, though, Jinkx stole the show without question. "Malambo No. 1" was made for Jinkx – her over-the-top character and goofy personality complemented her crazy awesome dance moves, and even the always-perfect Detox couldn't even come close.
Dida Ritz & The Princess: "This Will Be (An Everlasting Love)" (Natalie Cole)
It's nerve-wracking enough to have to perform in front of Her Royal Majesty RuPaul, but having to perform a song by the original performer of that song makes it even more high pressure. In Dida Ritz's best performance, she forced The Princess to sashay right the f**k away with her high energy, carefree lip sync to Natalie Cole's "This Will Be," done in front of Ms. Cole herself. The performance was so awesome that Dida got handkerchief waves from all the judges. 
Jujubee & Sahara Davenport: "Black Velvet" (Alannah Myles)
While Raja vs. Carmen was seductive in a porno kind of way, Jujubee's lip sync of "Black Velvet" was seductive in a classy kind of way. Performing against the lovely Sahara Davenport, Jujubee killed it with her rock chick style and emotional syncing. You really believed that Jujubee was singing the song herself, and her flawless performance sent Sahara packing.
Nina Flowers  & BeBe Zahara Benet: "Cover Girl" (RuPaul)
One of the best lip syncs for the titles was performed in the very first season of Drag Race – the showdown between Camerooooooooooon (aka BeBe Zahara Benet) and one of the best drag queens in the world, punk rock majesty Nina Flowers. The queens had literally polar opposite styles and their fight for the very first Drag Superstar title was as fierce as expected. Performing to RuPaul's classic "Covergirl," the queens battled it out and left audiences everywhere begging for more.
More:
5 Tracks You Need To Hear This Week
Justin Timberlake's Single 'TKO' Is a Throwback to 'Futuresex/Lovesounds'
Things You Need To Know About Shonda Rimes
---
From Our Partners:


40 Most Revealing See-Through Red Carpet Looks (Vh1)


15 Stars Share Secrets of their Sex Lives (Celebuzz)