11 Holiday Songs We Hate to Admit We Like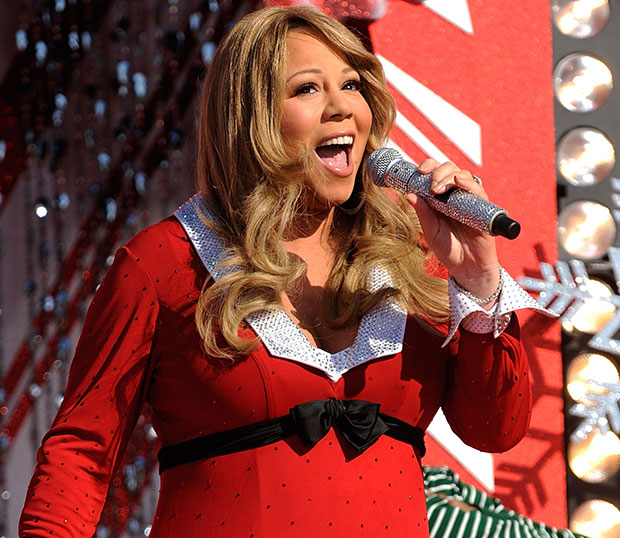 From here on out, every time we turn on the radio we will be bombarded with holiday cheer. For the next two months, we'll be forced to listen to every holiday song out. It seems that for every classic we just can't get enough of — like Eartha Kitt's "Santa Baby," or Adam Sandler's "Hanukkah Song" — there is a truly terrible tune (oh hey, "Dominic the Donkey"). But what about that third category, the songs that we are obsessed with but refuse to admit that we play each and every year?
The Hollywood.com team rallied together to reveal our deepest, darkest holiday carol secrets. And, together we came up with our own version of a horrible/wonderful holiday mix tape that we will be playing for the rest of the year. We present to you:
11 Holiday Songs We Hate to Admit We Like
Lindsey DiMattina: Mariah Carey's "All I Want for Christmas"
"This is the one song I play on repeat at the holidays. Even when it starts to bother my boyfriend and my parents, they just have to deal with it. 'All I Want for Christmas' is to hear this song over and over again."
Kelsea Stahler: RUN-D.M.C.'s "Christmas in Hollis"
"I mostly like this song for the revelatory fact that Santa apparently carries 'cold hundreds of Gs' in his wallet. It's not a typical Christmas tune, and I'm not a huge RUN-D.M.C. fan (plus my dad hates them), but that never stopped me from dancing around to the song in my living room while wearing my Mrs. Claus night gown. This may or may not still happen in my adult life."
Christian Blauvelt: Band Aid's "Do They Know It's Christmas?"
"Bob Geldof himself has said the 1984 song he co-wrote with Midge Ure to raise money for Ethiopian famine relief is dreadful. I mean, this is an arena-rock carol with lyrics like 'And there won't be snow in Africa this Christmastime / The greatest gift they'll get this year is life.' But I challenge any of you who listens to this Yuletide bit of splendor to get it out of your head once you've heard it. Beware, I may be humming it right now."
Abbey Stone: José Feliciano's "Feliz Navidad"
"I unabashedly, unapologetically love this festive, foreign language holiday jingle. But, seeing as only the strong of heart can listen to this song on repeat, I must celebrate my obsession solo."
Sydney Bucksbaum: South Park's "A Lonely Jew on Christmas"
"Holiday songs are not really my cup of tea, especially being Jewish. There aren't really that many good Chanukah songs out there. South Park's take on a Jewish holiday song is both funny and extremely true… and on repeat during December for this girl."
Kate Ward: 98 Degrees' "The Christmas Song"
"Mostly for Justin's bass-led bridge, which is as hilarious as it is humiliating."
Shaunna Murphy: NewSong's "The Christmas Shoes"
"Only I don't hate to admit that I like it. It's a true testament to the power of song, as every time I listen to it, I want to give a street urchin a quarter so he can buy his mom stilettos in case she dies on Christmas. I like that Jesus personally gave the kid's mom cancer so that the grumpy dude in the song could learn about Christmas spirit. Seriously, listen to the lyrics. IT'S SO GOOD."
Anna Brand: Billy Mack (Bill Nighy)'s "Christmas Is All Around"
"'I feel it in my fingers, I feel it in my toes…' Anyone who says this isn't the catchiest Christmas song around is lying. Even if it is demented."
Amanda Villarosa: 'N SYNC's "Merry Christmas, Happy Holidays"
"I will never stop loving this song, even if my entire family hates me for it."
Michael Arbeiter: The Waitresses' "Christmas Wrapping"
"It's catchy, it's different, and it embodies humanity's gravest fear: loneliness. Everyone else I know might cast the song out as tacky, but when Patty Donahue chirps rhythmically about spending Christmas by herself, my heartstrings are plucked by a sentiment all too familiar. Embarrassing as it may be, the theme rings true. Nobody wants to be alone, but knowing that we're not alone in feeling alone… that makes things just a little less lonely."
Aly Semigran: Josh Groban's "O Holy Night"
"Don't get me wrong, this is not a bad song, nor is this even close to a terrible rendition (it may actually be one of the best), it's just that Josh Groban, especially a Christmas song or album, is something you buy for your aunt out in the Midwest. But as soon as this thing comes on, so do the goosebumps. Damn you, Groban. Sorry… darn you, Groban!"
'Tis the season to be jolly!
Follow Lindsey on Twitter @LDiMat.
[Photo Credit: Mark Ashman/Disney via Getty Images]
More:
'America's Best Dance Crew' to Saunter Off MTV's Stage
Mariah Carey Sings Obama's Praises, Literally
'American Idol' Promo Chooses Inspiration Over Nicki-Mariah In-Fighting

Jennifer Lawrence Bikinis in Hawaii (PICS)

Best and Worst of the Thanksgiving Parade