12.12.12 Concert for Sandy Relief Highlights: Paul McCartney With Nirvana and More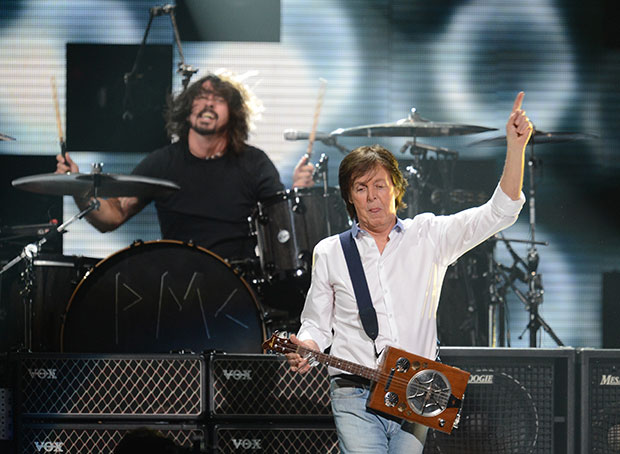 In late October, Hurricane Sandy devastated the Northeast coast leaving many areas in New York and New Jersey completely destroyed. On Wednesday, some of the music industry's biggest names took the stage at New York City's Madison Square Garden to help raise money for Hurricane Sandy victims during the 12.12.12: The Concert for Sandy Relief. And while it was a night about rectifying all the horror created by the storm, it was also a night about entertaining. In case you missed it, here are some the the best highlights from the concert, including the historic musical event of Sir Paul McCartney jamming with the surviving members of Nirvana, Adam Sandler's unforgettable "Hallelujah" performance, and the sight of Kanye West in a skirt for 20 minutes.
Paul McCartney Reunites Living Members of Nirvana
The impossible became possible on the stage at Madison Square Garden on Wednesday night. After McCartney finished performing The Beatles' classic "Helter Skelter," Nirvana's Dave Grohl, Kris Novoselic, and Pat Smear reunited and joined McCartney to sing a new song called "Cut Me Some Slack."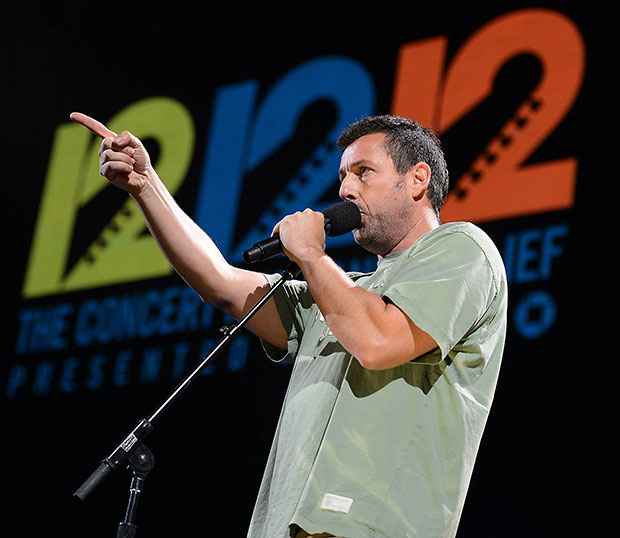 Adam Sandler Performs "Hallelujah — Sandy, Screw Ya!"
Sandler made up his own comedic version of Leonard Cohen's "Hallelujah" with a mix of lyrics that slammed some of pop culture's finest. Lindsay Lohan's cop problems, New Jersey losing the Nets, and Mike "The Situation" always taking off his clothes were just some of the jokes Sandler touched on in his parody.
Bon Jovi Serenades "Wanted Dead or Alive"
The band also played their classic sing-a-long "It's My Life."
"Piano Man" Billy Joel Is in a "New York State of Mind"
Like he did turing the Sandy telethon last month, Joel changed the lyrics to "Miami 2017″ to reflect Sandy's victims. He also sang "Movin' Out," "New York State of Mind," and "River of Dreams."
Follow Lindsey on Twitter @LDiMat.
[Photo Cedit: Larry Busacca/Getty Images for Clear Channel, DON EMMERT/AFP/Getty Image]
More:
12.12.12: The Concert for Sandy Relief – Watch Bruce Springsteen and More Right Here!
Sir Paul McCartney To Take Part In Nirvana Reunion At Sandy Benefit Concert
Bruce Springsteen, Christina Aguilera, Jon Stewart Shine in Hurricane Sandy Telethon

Justin Bieber Murder Plot Foiled: Two Men Had Planned on Castrating and Strangling the Pop Star (REPORT)

Kim Kardashians Best Bikini Moments (PHOTOS)