2012: Remembering the Year that Was in Pop Culture Via Our Favorite Stories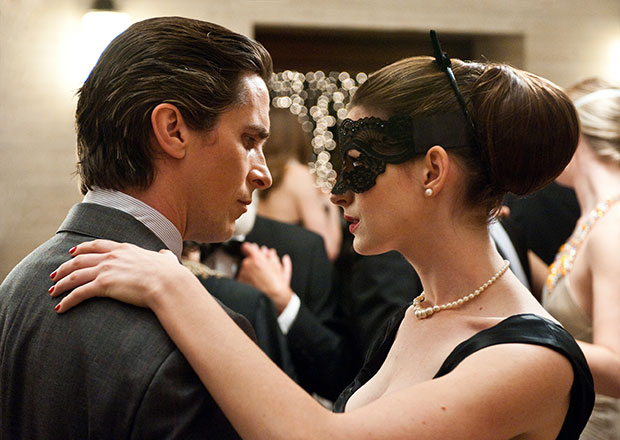 Engagements. Divorces. Break-ups. Cheating scandals. Three-breasted women. Let's face it — we've seen a lot this year. So much, in fact, that it's hard to believe less than 12 months have passed between news that Taylor Swift would write songs about Jake Gyllenhaal and the news that Taylor Swift had written songs about Jake Gyllenhaal.
So what else has 2012 packed into its already jam-packed year? To take a trip down memory lane, we've handpicked some of our favorite Hollywood.com stories written about some of our favorite pop culture topics of the year. Read and enjoy below! Sniff. Pop culture grows up so fast.
Uggie, Hollywood's Most Famous Dog, Spills the Dirt on His Co-Stars — VIDEOThe Academy Awards' other break-out (it's not all about you, Angie's leg), Uggie, visited Lindsey DiMattina in Hollywood.com's offices to talk about his memoir, Uggie: My Story, and his ruff rough life alongside stars like Robert Pattinson and Reese Witherspoon.
Brad and Angelina's Engagement Lets Gay Americans Down: Brian Moylan on why the biggest engagement of the year may also be the biggest disappointment.
 Colton Dixon: 'I'm Honored' to Be the Tim Tebow of 'Idol': Lindsey DiMattina's interview with the seventh place Idol finisher proved Colton Dixon knows his power within the Christian community. Hopefully he does better than the Jets.
15 Villains We Like Better Than Heroes: As Loki entered our lexicon upping The Avengers' record-breaking arrival, Shaunna Murphy explored comics' nuanced and complex villains — translation: those who were much more interesting than their heroic counterparts.
The Hulk Problem: Lou Ferrigno on Marvel's Struggles to Bring the Hero to Screen: Prior to The Avengers, Hollywood couldn't quite hit the Hulk hard enough to turn him into a hit. That makes the original Hulk, Lou Ferrigno, angry. You'll like him when he's angry. Read his chat with Matt Patches.
10 'Community' Episodes That Couldn't Exist Without Dan Harmon
: Following
Community
's Season 4 renewal, chatter began circulating that beloved creator
Dan Harmon
 would not return to the series. Weeks before that proved to be true — the showrunner was replaced by David Guarascio and Moses Port — Michael Arbeiter mapped out 10 episodes of the NBC series that wouldn't exist without Harmon. Read it and weep. Really. 
'Girls': A Show for Guys?
: In the Spring, HBO's
Girls
premiered to less fanfare than chatter. Did
Girls
represent the new wave of comedy, or was it simply a narrow, whitewashed representation of youthful immaturity? Whatever it was, Michael Arbeiter explains why guys dig
Girls
.
'Brave' and the Princess Problem, Two Steps Forward, One Step Back
: Pixar's latest,
Brave
also proved to be its most divisive. Was the film a refreshing departure from Disney past — centering on a spunky heroine with no eyes on marriage — or another example of the studio's inability to break from princess culture? Kelly Schremph talks to Women in Film and others about
Brave
's princess problem.
'Brave's Girl Power Problem: Empowering Girls at the Expense of Boys?
: And, unfortunately, as Michelle Lee points out,
Brave
had a boy problem too.
Notes on Nora Ephron
: In 2012, we lost pop culture greats like
Andy Griffith
,
Dick Clark
, and
Larry Hagman
. And then there was
Nora Ephron
, a woman that meant as much to pop culture as pop culture meant to her. Alicia Lutes' tribute to the late screenwriter is as touching as a moment atop the Empire State Building.
Joe Manganiello Hints at a 'Magic Mike' Prequel
: No butts (heh) about it, as soon as
Magic Mike
hit theaters, we were as drawn to the Xquisite club as Mike was to tables. So imagine how pumped we were when Michael Rothman talks to
Joe Manganiello
and discovered a prequel could be in the works. Magical!
'Spider-Man' Fandom: Why a Reboot Was the Only Answer
: Matt Patches explored why, just 10 years after the original
Spider-Man
trilogy debuted, there was little fanfare surrounding the latest reboot and why, still, pop culture demanded the sequel.
'Spider-Man' Star Emma Stone Knows You Turn Her Into GIFs
: 
Spider-Man
star
Emma Stone
is aware of her place in GIF culture, and tells Hollywood.com and the Internet, "Don't let me become a GIF." In response, of course, the Internet turns Stone's interview with Hollywood.com into a GIF.
'Amazing Spider-Man': How Scientific Was the Science?
: Could someone replicate lizards' regenerative properties to regrow limbs? Would any company be interested in creating web technology? And could Peter Parker really order scientific liquid on Amazon? University of Minnesota and superhero science expert Dr. Jim Kakalios weighs in!
Will People Head to the Theater for 'Dark Knight Rises'?
: In the early morning hours of July 20, a shooter named James Holmes entered an Aurora, Colo. theater during a midnight screening of
Dark Knight Rises
and opened fire, killing 12 and injuring dozens more. Talking to theatergoers and theater workers, Matt Patches explores trepidation surrounding seeing the film following the tragedy.
Midnight Movie Screening Culture: What Happens Now?
: Following the
Dark Knight Rises
tragedy, questions lingered regarding midnight movie culture: Would theatergoers still be allowed to wear costumes? Will theaters implement more security? Marc Snetiker talks to security experts and audience members about what might change about the cult event.
Seeing 'The Dark Knight Rises' Before and After the Tragedy
: Marc Snetiker, who attended a midnight screening prior to learning about the tragedy, admits his experience seeing the film was far more carefree than those who purchased tickets after. Aly Semigran and Michael Arbeiter, on the other hand, describe the tension and sadness surrounding each screening of the film following the tragedy.
Why Are We So Skeptical of Celebrity Couples?
: In late July,
Kristen Stewart
took a bite out of Twihards' hearts when she publicly admitted to cheating on boyfriend and co-star
Robert Pattinson
with married
Snow White and the Huntsman
director,
Rupert Sanders
. The dramatic apology ("I love him, I love him, I'm so sorry") launched talk over whether Stewart's relationship with Pattinson was ever real in the first place, piling on similar chatter that arose when
Katie Holmes
and
Tom Cruise
divorced. Here, Kate Ward talks to experts about why our cynical society is unable to separate truth from fiction.
Kristen Stewart and the New World of Internet Hatred
: Brian Moylan sympathizes with Stewart, a young actress that entered a gray moral zone (like many her age) during the harsh age of the Internet.
The Three-Breasted Alien in 'Total Recall' and Other Pop Culture Twos Gone Awry
: We love
Total Recall
's three-breasted woman — both original and rebooted. What we don't love is these pop culture trios gone awry. Walk away,
Game of Thrones
' three-eyed Raven, the strawberry in Neapolitan ice cream, and the wise man who gave myrrh. Aly Semigran explains why you're all not wanted.
'Breaking Bad' Cast Connections: 'Total Recall' and Other Common Bonds — INFOGRAPHIC
: 
Bryan Cranston
starred in the
Total Recall
reboot, while
Dean Norris
starred in the original 1990 movie. But you'd be surprised to see how else the
Breaking Bad
cast is connected. Michael Arbeiter shows us the six degrees here, bitch!
The Many (Unchanging) Faces of Edward Norton
: One of these things is just like the other. In fact, all of these things are just like the other.
Bic's Slimmer, Sparklier Pens 'Just For Her' Hit the Market
: Bic's sparkly, slim pens "Just For Her"?! Abbey Stone writes about how the sexist line is just not write. (Heh.)
'Fifty Shades of Grey': What do Authors and BDSM Experts Think?
Your aunt (disturbingly) loves E.L. James' break-out BDSM hit. But what do erotica novelists and BDSM experts think about the digestible — but poorly written — series? Read here to find out what Aly Semigran learned — or just go eat your breakfast.
'Breaking Bad': An Ode to Mike
: Michael Arbeiter's salute to
Breaking Bad
's seemingly immortal Mike Ehrmentraut, a man who gave full measure.
Dean Norris Teases 'Brutal' 'Breaking Bad' Finale: 'There's Going to Be an 'Oh, S**t' Moment'
: When Shaunna Murphy spoke to Dean Norris about
Breaking Bad
's "devastating" finale, the actor teased an "Oh s**t" moment. It turns out he would be right — literally and figuratively.
Leanne's Spoiler List: Will Finchel Get Back Together? Lea Michele Answers!
: In early September, Hollywood.com brought you the first edition of Leanne's Spoiler List, your home for obsessive TV scoop. In its debut edition, Leanne Aguilera's column teases a Finchel reunion, to the emoticon-fueled squeals of
Glee
fans.
Ryan Seacrest Is All That's Left of the 'American Idol' Brand
: Call it Reality Show Roulette — singing competition series' incessant revolving celebrity panels. In September,
American Idol
finally announced its judging panel, led by
Nicki Minaj
,
Keith Urban
,
Mariah Carey
, and
Randy Jackson
. Kelsea Stahler talks to a brand marketing expert about how
Idol
's one remaining (non-Jackson) mainstay, Ryan Seacrest, is vital to the
Idol
brand. Seacrest (can never go) out!
Cable Dominates Emmy Nominations: This is the Year of the Small, But Mighty
: Kelsea Stahler talks to Emmy voters about why small is so big at the 2012 Emmys. Turns out (small) size might matter after all.
Are Some Shows Gaming the Emmys?
: 
American Horror Story
for Best Miniseries?
Ashley Judd
for Best Actress in a Miniseries for
Missing
? Brian Moylan consults the Academy of Television of Arts and Sciences, Connie Britton, and
Missing
's executive producer about how they're still playing by Emmys' rules.
'Modern Family' Spell Won't Be Broken Anytime Soon. And That's Okay.
: "Who would have thought
Modern Family
would win the Emmy for Outstanding Comedy Series?" said no one. The ABC comedy, which won the highest honor for the third year in a row, earned scorn from some hoping for a change. But Kelsea Stahler explains why the trend will only continue.
'Here Comes Honey Boo Boo' For a Second Season: Internet Implodes
: This summer, a ball of sketti-smeared energy named Honey Boo Boo bursted into our lives and created one of the the more vicious debates in pop culture. Was the series exploiting poor Alana and her poor family? Or was the series a playful documentary of a loving and accepting family? Either way, the debate will continue into Season 2, as Alicia Lutes discovered upon the renewal's announcement.
8 Things More Offensive Than Victoria's Secret's Sexy Little Geisha
: Michelle Lee wonders whether the lingerie company really did cross the line with their ridiculous Sexy Little Geisha garb. Instead, she offers up eight other racially insensitive characters and things in pop culture to direct your anger at. (Ahem,
2 Broke Girls
' Han Lee.)
Facebook and Chairs: What Other Objects Is It Like? — VIDEO
: According to Facebook's first ad campaign, chairs are like Facebook. And so are doorbells, airplanes, basketball, bagged lunches, Ron Swanson's mustache, and participating Applebee's locations. (Okay, we made those last three up.)
Why We Can't Peg President Obama's Pop Culture Persona
: President Clinton was the womanizer, President Bush was the doltish goof, and even Gerald Ford had a distinct (if inaccurate) pop culture persona. President Obama, however, proved to be much harder to peg for comedians. Kelsea Stahler talks to Keegan-Michael Key and Jordan Peele and other comedy insiders about why Obama will never be labeled by
Saturday Night Live
,
The Daily Show
, and others.
Shh! We Have Obama and Romney's Secret Notes from the Debate
: Not really, but we wish these were real.
Are These Quotes from a Presidential Debate or 'Real Housewives' Reunion?
: You'll be surprised how often the line blurs. Take Brian Moylan's quiz!
Smear Ads 2012: Stop Liking Ryan Gosling — VIDEO
: Did you know Ryan Gosling is fueling one of the worst wars in the world? His words, not ours. See our smear ad (paid for by your boyfriend).
Love By Numbers: The Big 'Bachelor' Breakup Barometer
: In July, we were surprised when
Bachelorette
's
Emily Maynard
chose
Jef Holm
over
Arie Luyendyk
. And, in October, we weren't surprised when Maynard and Holm became the latest couple in the
Bachelor
franchise to part ways. Just what is the mean length of
Bachelor
relationships? Alicia Lutes does the math!
Boy Meets World Halloween Episode Oral History
: Matt Patches assembles
Boy Meets World
's cast and crew to talk about the series' memorable and unsettling 1998 Halloween episode, "And Then There Was Shawn." As
Rider Strong
told Patches about the episode, "I actually thought, 'Well, this will be fun for us, but our audience might hate it.'" But you didn't — so read about how the series and episode came to be and remembered.
Why Isn't There a Female Equivalent of James Bond?
: Why haven't female heroes grabbed national attention like Bond grabs his girls? Feminist experts tell Kelsea Stahler why sexism may be responsible for a lack of lady spy love.
Adele, 'Skyfall,' and the State of the Movie Soundtrack
: Aly Semigran talks to experts about the disappearing phenomenon of movie soundtracks in a digital age. Still, some soundtracks will never go out of style or age, quite like Bond himself.
Does James Bond Have a Problem with Gays?
: We salute
Skyfall
for a surprising scene that implies Bond has flirted with homosexuality. Still, the scene hardly makes up for Bond's gay problem. Brian Moylan explains why.
'Twilight: Breaking Dawn — Part 2': Kristen Stewart on Bella as a Feminist Role Model
: Is Bella a role model? Many feminists say no. But 
Kristen Stewart
 gives a Shaunna Murphy a different — and smart — answer. 
10 Crimes Committed By the Characters of 'Twilight'
: Believe it or not, the beloved characters from the
Twilight
franchise have committed fraud, theft, insider trading, and whatever the hell law that imprinting nonsense has to have broken. Matt Patches tells us why the Cullen clan should trade their Forks mansion for a prison cell.
How Bad is Guy Fieri's Restaurant? The People Speak
: Following Pete Wells' harsh
New York Times
review of the Food Network personality's Guy's American Kitchen, the intrepid Abbey Stone and Kelsea Stahler went express to Flavor Town and learned diner's reactions were surprisingly positive — even if Hollywood.com was saddened to learn the restaurant took their blue watermelon margarita
off the menu
following Wells' complaints.
Taylor Swift Rumor Mill: Jake Gyllenhaal and Harry Styles Are Her Latest Victims
Abbey Stone on why Taylor Swift's game is getting old. Continue to be coy about your relationships, Taylor, and we'll never, ever, ever get back together.
'iCarly': The Best Sitcom Since 'Arrested Development'
: Michelle Lee has a point, even if that headline made you blue yourself.
Pop Culture Dioramas: Art Inspired by 'Avengers,' 'Magic Mike,' and More
: Pop culture art projects worthy of As, Fs, and WTFs!
Share your fondest memories of 2012's year in pop culture below! [Image Credit: Warner Bros.]
You Might Also Like:

20 Hottest Bikini Bodies of 2012: Megan Fox and More!