The Year of Kimye: A 2013 Retrospective on Kanye West and Kim Kardashian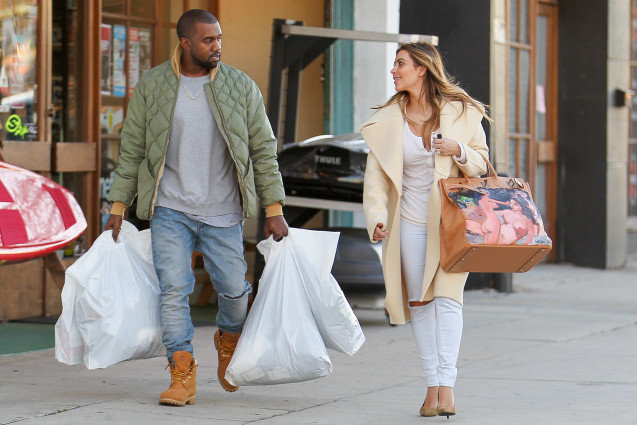 WENN.com
In 2013, there was one celebrity story that dominated the media from the first few days of January all the way through this Christmas. Nope, not Miley and her twerking or Justin Bieber's possible retirement. We're talking about Kimye, a.k.a. Kim Kardashian and Kanye West. When these two tabloid fixtures first got together, it was clear that they were poised to become the biggest celebrity couple the Internet has ever seen. Whether you like it or not, they're probably this generation's Britney and Justin, and the biggest media power couple since the first Bennifer, so every time you check your Twitter feed or browse through the tabloids in a supermarket, there's bound to be Kimye wherever you look. 
But they didn't become the year's biggest news story overnight. No, over the course of the year, the couple were making the right announcements or wearing the wrong dresses, all to ensure that 2013 truly was the Year of Kimye. We've decided to help you jog your Westdashian-related memory by breaking down their year, season by season. 
Winter
The couple ushered in the new year by announcing that they were expecting their first child together. The news came when West announced to the crowd at his New Year's Eve concert in Atlantic City, N.J., that Kardashian was set to become his "baby mama," which, of course, flung the media into a tail-spin so that pop culture fiends the world over could wake up on the first day of the new year to find out that the most famous child in the world was on its way. From that moment, it was clear that Kardashian and West were set to dominate the cultural conversation for the next 12 months, a promise that they have more than lived up to. 
When it came time for the pair to confirm reports of the pregnancy, they did so the only way they knew how: by hosting a massive New Year's party in Las Vegas and informing all of the waiting paparazzi that there was, indeed, a little baby Kimye arriving soon. From there, the paparazzi and gossip sites were immediately on bump watch, and spent the next nine months writing article after article about the size of Kardashian's belly, speculating how far along she might be, and wondering if maybe it was time to take a break from her heels. They capped off the season by posing for the cover of the French magazine L'Officiel Hommes,  locked in a naked embrace. Clearly, this is where the seed of inspiration for West's "Bound 2" video was planted, so we really should have seen it coming. 
Spring
Kimye's spring was dominated by one event: the 2013 Met Gala. "Hold on," you must be wondering, "how can one single event have dominated an entire season in terms of Kimye koverage?" Well, because Kardashian chose a custom-made Givenchy gown designed by West's good friend Ricardo Tischi that was, shall we say… less than flattering. The floral-patterned gown featured a high neck, long sleeves, and attached gloves, all of which resulted in an ensemble that was less fashion-forward, and more Mrs. Doubtfire. Unfortunately for Kardashian, the Internet had a field day, and the next few months were filled with jokes made at her expense. But luckily, she was able to put it out of everyone's mind the next month.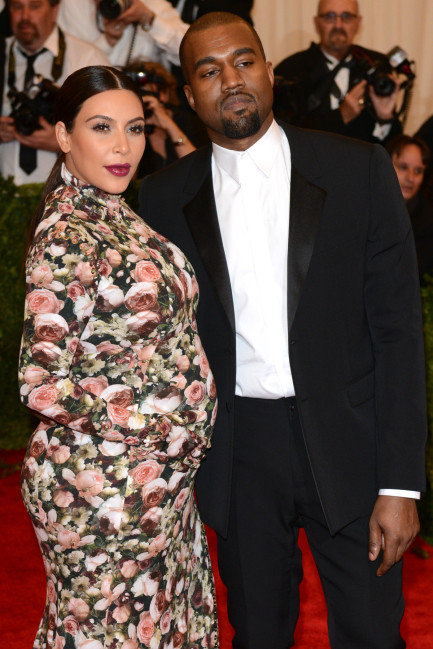 WENN
Summer
Leave it to Kimye to upstage royalty. A whole month before the Duchess of Cambridge gave birth to Prince George, America was blessed with a royal baby of its own, when Kardashian gave birth to a baby girl on June 15. They decided to eschew both the K-initial tradition established by Kardashian's family, as well as all common sense, in naming their baby North West. The couple is notoriously protective of their daughter, and so the world didn't get their first look at one of the world's most famous infants until late August, when West stopped by Kris Jenner's talk show to premiere her baby photos.
Also in the summer, Kardashian's divorce from Brooklyn Nets player Kris Humphries was finalized, just a week before she gave birth. Of course, since most of the world forget about Humphries the second Kardashian filed for divorce, it's only a significant part of Kimye's year, because it opened the door for the biggest celebrity news story of the fall.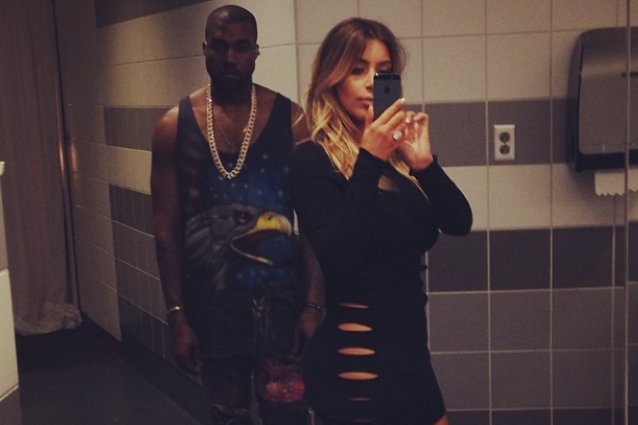 kimkardashian/instagram
Fall
After North's birth, West decided to help Kardashian out and grant her a break from the spotlight. Of course, he chose to do this by kicking off the fall with a series of interviews promoting his album Yeezus, in which he complained about the difficulties of breaking into the fashion world, declared himself to be a "creative genius," and compared himself to a character from Wreck-It Ralph. Then, in October, he started a "rap feud" with late night host Jimmy Kimmel, after his show aired a sketch "mocking" West's BBC interview. But after clearing the air during a 15-minute interview on the show, West moved on to something a bit more important…
On October 22, West proposed to Kardashian at AT&T Park in San Francisco. The spectacle included an orchestra (playing Kanye West songs, natch), an audience of family, close friends, and the camera crew from Keeping Up With the Kardashians, and an emphatic statement on the jumbotron, asking her to "PLEEEASE MARRY MEEE!!!" The proposal dominated the media cycle for weeks, and while everyone was busy predicting what a possible Kimye wedding would include, the couple found themselves in the middle a lawsuit after video of the whole thing was leaked to the press. 
And then, just when we all thought they couldn't top that proposal, West released the music video for his single "Bound 2," which featured a topless Kardashian straddling his lap while the two zipped through the countryside (or, at least the very realistic green screen backdrop) and stared blankly into each other's eyes. Unfortunately for West, the two were beaten at their own game when James Franco and Seth Rogen released a shot-for-shot recreation of the video, which, although more watchable than the original, is not quite as hilarious.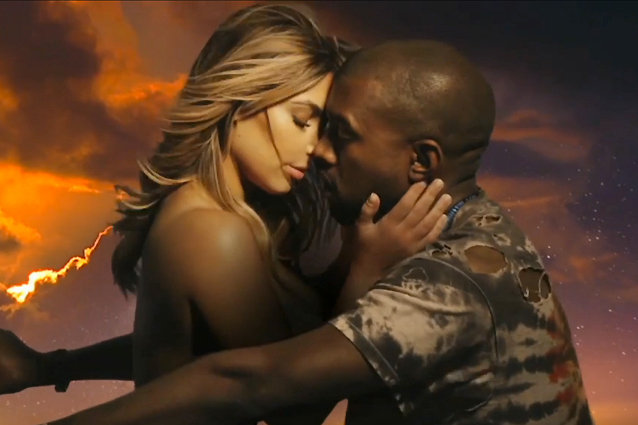 Kanye West / Ellen
That essentially bring us up to speed on the year in Kimye. Of course, we're leaving out countless SNL  parodies, Instagram posts and fights with the paparazzi, but with these two so heavily dominating the news this year, it's hard to include it all. For now, all that we can do is look back fondly over the past 12 months, and bask in the glow of the most famous couple of the year. But don't be sad; with the wedding of the century likely headed our way in 2014, there's still plenty more Kimye antics to look forward to.