2014 BRIT Awards: The Lowdown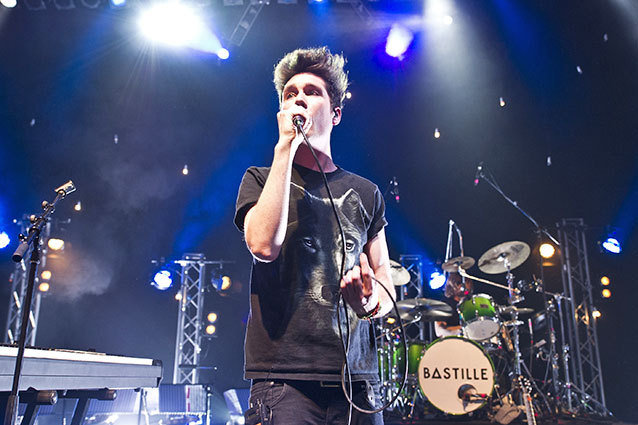 WENN
The BRIT Awards may no longer be the must-see event it was in the 90s, but it's still by far the British music industry's biggest night. Here's a look at the list of this year's nominees and the acts who should perhaps start preparing their acceptance speeches ready for February 19.
British Male Solo Artist
David Bowie, Jake Bugg, James Blake, John Newman, Tom Odell
Considering the BRITs' reputation for awarding sales over talent, it's surprising but pleasing to see that both Gary Barlow and Robbie Williams have been snubbed here. The panel may want to justify giving New Boring singer-songwriter Tom Odell the Critics Choice award last year, but there would surely be an outcry if David Bowie didn't get the sentimental vote and pick up his first BRIT in nearly 30 years.
Who Will Win: David Bowie
Who Should Win: David Bowie
British Female Solo Artist
Birdy, Ellie Goulding, Jessie J, Laura Marling, Laura Mvula
Laura Marling surprised everyone by pipping Ellie Goulding to this award in 2011 but considering the latter's triumphant twelve months, it's difficult to see her doing the same this year. Just as long as the caterwauling Jessie J doesn't get her hands on it.
Who Will Win: Ellie Goulding
Who Should Win: Laura Mvula
British Group
Arctic Monkeys, Bastille, Disclosure, One Direction, Rudimental
It's encouraging to see the BRITs recognise two of the year's best commercial dance acts in this category, but British Group almost always goes to a guitar band so Arctic Monkeys are almost certain to add to their tally of five.
Who Will Win: Arctic Monkeys
Who Should Win: Disclosure
British Breakthrough Act
Bastille, Disclosure, Laura Mvula, London Grammar, Tom Odell
London Grammar produced one of the most beautiful albums of last year with If You Wait but as this award is voted for by listeners of Radio 1, it will inevitably go to the act with the biggest fan base. Step forward the unfathomably successful Bastille.
Who Will Win: Bastille
Who Should Win: London Grammar
British Single
Bastille ("Pompeii"), Calvin Harris ("I Need Your Love"), Disclosure ("White Noise"), Ellie Goulding ("Burn"), John Newman ("Love Me Again"), Naughty Boy ("La La La"), One Direction ("One Way Or Another/Teenage Kicks"), Passenger ("Let Her Go"), Rudimental ("Waiting All Night")
Bar Passenger's contrived snoozefest, this isn't a bad list of the best-selling singles of the last year. Again voted for by the public, One Direction will inevitably walk away with the award. But it's a shame that it'll be for their karaoke mash-up of Blondie's "One Way Or Another"/The Undertones' "Teenage Kicks" rather than the far superior "Story Of My Life."
Who Will Win: One Direction
Who Should Win: Naughty Boy
British Album of the Year
Arctic Monkeys (AM), Bastille (Bad Blood), David Bowie (The Next Day), Disclosure (Settle), Rudimental (Home)
A welcome departure from the bombastic EDM favoured by the likes of Guetta et al, Disclosure's  Settle was the album that 2013 needed. But following the return-to-form of AM, BRITs favorites Arctic Monkeys will probably pick up the second and arguably the most coveted award of the night.
Who Will Win: Arctic Monkeys
Who Should Win: Disclosure
International Male Solo Artist
Bruno Mars, Drake, Eminem, John Grant, Justin Timberlake
Possibly the biggest snub of the awards is the lack of Kanye West, who like his former touring partner Jay-Z, has been entirely ignored in favour of Justin Timberlake's two bloated and self-indulgent comeback albums and Eminem's regressive Marshall Mathers sequel. More encouraging is this year's most leftfield nominee John Grant, but with Bruno Mars set to perform on the night, this category will only go one way.
Who Will Win: Bruno Mars
Who Should Win: John Grant
International Female Solo Artist
Janelle Monae, Katy Perry, Lady Gaga, Lorde, Pink
Suggesting the BRITs panel aren't too keen on the whole twerking phenomenon, Miley Cyrus is another major omission here. Lorde might be worth an outside bet but currently the most bankable pop star on the planet, Katy Perry will probably reign supreme.
Who Will Win: Katy Perry
Who Should Win: Janelle Monae
International Group
Arcade Fire, Daft Punk, Haim, Kings Of Leon, Macklemore & Ryan Lewis
If there was an award for Best International Single, Daft Punk would run away with it. But despite the mixed reaction to their last album, the BRITs are more likely to favour Kings of Leon than any of the more adventurous names on the list.
Who Will Win: Kings Of Leon
Who Should Win: Haim