5 Rappers Who Are Total Foodies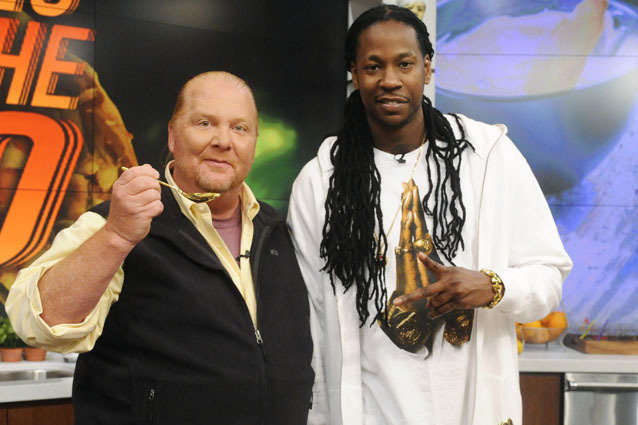 ABC Television Network/Getty Images
Gangstas. Thugs. Bad influences. Rappers have been called a lot of things (by themselves and others), but some of the most well-known rappers have a hidden passion and they're starting to let the world know about it. Like a handful of models who love to eat and cook, there are a few rappers out there who can throw down in the kitchen. Here are five rappers who are proud foodies.
2 Chainz
We've seen him on Jourdan Dunn's cooking series, and he's also made crab cakes on ABC's The Chew. Everyone seems to enjoy his food, which is why he's about to drop his highly anticipated cook book. He spoke with Sway in the Morning about his health-conscious approach to cooking and eating, and also told Fuse he had some pretty cool ideas for recipe titles (including "FedsFettuccini").
Bun B
Whatever you do, do not go to Bun B's food blog You Gotta Eat This on an empty stomach. We also do not recommend visiting that blog's Instagram page no matter how recently you just ate… at least if you're minding your diet. Because, no matter what, that pancake bacon stack is going to look amazing. Bun B also has some good studd for the more adventurous palette, including the jellyfish sushi he recently tried at Uchi Houston.
Action Bronson
The Queens rapper played food critic for Vice for a while, and his food truck was wildly popular. Now that he's on tour, he's still finding excellent eats all over the world. Those insanely huge slabs of meat in New Zealand? Pretty scary… and delicious, we imagine.
Coolio
Last year, Coolio sold off his entire music catalogue to fund his new ventures as a chef. This is probably a great idea, especially since his 2009 cookbook Cookin' with Coolio did so well, and he was a favorite during Rachael vs. Guy: Celebrity Cook Off  (he actually placed second in the competition).
Fabolous
Perhaps more of a budding restaurateur than a foodie, Fab spent some time running around New York City and visited some of the city's dopest spots. If you haven't been to Sons of Essex yet, those mac 'n' cheese balls might do it for you.
Follow @Hollywood_com Follow @shannonmhouston