550 Life-Size David Hasselhoff Cut-Outs Stolen: Hoff Says I'm "Humbled"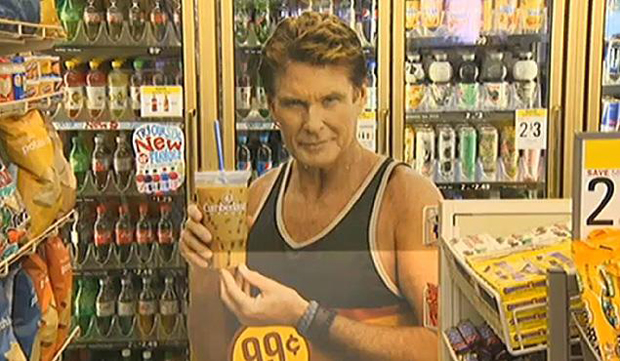 David Hasselhoff is popular, really popular. He's not just big in Germany anymore!
The Baywatch actor is making headlines after a number of people have stolen hundreds of life-size Hoff cut-out ads from Cumberland Farms stores in the Boston area. 
The campy ads feature the actor/singer shilling iced coffee. Fans have been seen posting pictures of themselves next to the ads on Facebook and other social media. 
Wednesday, Hasselhoff told a Boston news crew, "When I found out that they were stealing them I laughed really hard because I thought it was pretty funny. It's cool and it kind of humbles me that people are still following David Hasselhoff after all these years." And yes, he really referred to himself in the third-person. 
And he has one last message for his fans: "I just hope nobody gets in trouble but I encourage everybody to go out and see what they can do about stealing a Hoff but please have a cup of coffee while doing it," Hasselhoff said.
Other stores around the country still have the cardboard cutouts. But the petty thieves are acting fast.  
Cumberland's brand strategy specialist Kate Ngo told The AP that only about 20 cutouts remain for the roughly 570 stores in New England and Florida. Do you have your own personal Hoff yet?