Under the Influence: 7 Influential Debut Albums of the 90s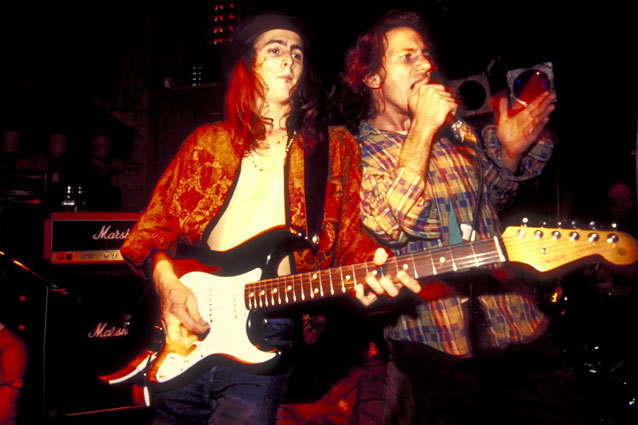 Steve Eichner/WireImage
As much as some people may be thanking their stars that the 1990s are over and Baja jackets are no longer cool, the fact remains that the decade had some of the best music ever. The '90s were coming off of the ridiculous excess of the '80s and went through a rollercoaster ride of numerous music genres. 
Here's a look at 7 artists that released their debut albums in the '90s and still have us pining for them.
 Pearl Jam: Ten (1991)
Ahhh, Ten – the album that launched a thousand crappy rock bands and horrendous singers who think their vocals are deep and profound (see: Scott Stapp, Chad Kroeger, Aaron Lewis, etc.). There could've been a legit Nirvana vs. Pearl Jam feud with Kurt Cobain telling Flipside magazine that Pearl Jam was nothing but "false alternative macho metal" when Ten came out, but unfortunately, Eddie Vedder is way too mature, reportedly reaching out to Cobain and ultimately getting on friendly terms before Cobain's death. Ten took grunge into a whole new level and proved the diversity and lasting power of Pearl Jam. Dealing with everything from abortion to depression and murder to bullying, Ten was the perfect social commentary: effective without being preachy. The album also made Pearl Jam stand out in the grunge movement, as their sound was rooted more in classic rock than punk and low-fi.
Pavement: Slanted and Enchanted (1992)
If you love indie rock (whatever that means to you), then props must be given to Pavement's Slanted and Enchanted. The band is constantly referred to as the most influential band of the '90s because of their ultimate reach over how the indie rock scene turned out. With their stream-of-thought lyrics, purposely shoddy production, and beautiful melodies, Pavement influenced just about every indie rocker that came out after them – what the Pixies and Sonic Youth did for grunge, Pavement did for a whole new generation of indie.
Dr. Dre: The Chronic  (1992)
One of the most influential albums in West Coast gangsta rap, Dr. Dre's The Chronic is such a legendary album that it took Dre 7 years to make a worthy follow up. Dre's debut solidified G-funk rap and also launched the career of Snoop Dogg. The Chronic  also led to the legendary East vs. West rap beef that dominated rap scene in the '90s. The legendary "F**k Wit Dre Day (And Everybody's Celebratin')" took serious shots at Eazy-E and others, even using impersonators in his video, and all of a sudden rap beef was something more than "Yo mama's so fat" jokes. The album also cemented Dre as a superstar producer, as the album boasted some of the slickest production that the genre had ever heard.
Liz Phair: Exile In Guyville  (1993)
According to Liz Phair, her crazy influential debut Exile in Guyville  was a track-by-track response to the Rolling Stones' Exile on Main St.. Sure Liz, whatever – the point is, Exile in Guyville managed to change both the alt rock scene and also the way people perceived female singer-songwriters. Though her lyrics may seem tame now, at the time it was surprising to hear a young woman sing about sex, drugs, rock n' roll, and crappy relationships. Her honesty was refreshing and gave women a voice that differed from the airhead pop songs that were previously associated with women.  Though she never got the full recognition that she deserved, Phair helped pave the way for the angry/over-it rock chick to enter the mainstream.
Green Day: Dookie (1994)
Okay, okay, so technically Dookie isn't Green Day's debut-debut album, but it is the band's major label debut. Dookie was the record that took the band from playing at rowdy gigs to Bay Area kids at 924 Gilman to becoming known and emulated all over the world.  After years of grunge, flannel, and low serotonin dominating the music world, all which was further exacerbated by Kurt Cobain's suicide in April, 1994's Dookie was a breath of fresh air, a testament to "F**k it all, let's just have a blast." Green Day is responsible for igniting the generally horrendous pop-punk movement of the '90s, but no one has been able to emulate the pop-punk perfection on Dookie, which succeeded in having all the elements of punk rock akin to bands like the Ramones: apathy, boredom, aggression, independence, and fun.
Oasis: Definitely Maybe  (1994)
Oasis' debut album had a similar effect in England that Dookie had in America, albeit in a more drunken fashion. After the Stone Roses' seminal self-titled debut in 1989, the Britpop movement had officially begun, and Oasis' first album helped define it. Definitely Maybe paved the way for a completely new type of rock that kicked aside the emo-filled despondencies of shoegaze, filling it instead with tales of drunkenness, debauchery, and celebration. The Gallaghers weren't moaning about not feeling good enough or getting dumped by their girlfriends – they were bragging about how blessed you were to be in their presence and how they don't care about anything because they just want to get sloshed. The album was filled with songs that made you feel rowdy and confident, not sullen and moody, and marked a turning point in the direction the Britpop genre took in the mid-'90s.
Britney Spears: …Baby One More Time (1999)
Though it may seem blasphemous to place Britney Spears on a list among the likes of Pavement and Oasis, the influence that her debut album had on the pop world is utterly undeniable. …Baby One More Time not only launched the career of a bona fide pop culture icon, but it also kickstarted the teen pop movement for the millennial generation. It's hard to find any pop singer who came out in the 2000s that hasn't been influenced by Spears, and regardless of whether that's for better or for worse, ultimately Spears changed the pop landscape for good.
More:
You're So Vain, You Probably Think This Song Is About You
Bands Who Soldiered On Without Key Members
TV Characters From the 80s and 90s Who Deserved Spin-Offs
---
From Our Partners:


40 Most Revealing See-Through Red Carpet Looks (Vh1)


15 Stars Share Secrets of their Sex Lives (Celebuzz)