'A League Of Their Own' Inspiration Lavonne 'Pepper' Paire-Davis Has Died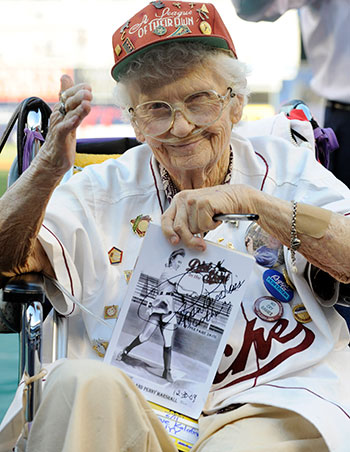 Batter up, hear that call, the time has come for one and all to pay tribute and remember the amazing life of Lavonne "Pepper" Paire-Davis, the woman who, along with Dorothy Kamenshek, was an inspiration for the character of Dottie Hinson, played by Geena Davis, in the 1992 classic A League of Their Own. According to the New York Times, Paire-Davis — who spent ten seasons in the All-American Girls Professional Baseball League, which she joined in 1944 with her friend Faye Dancer — has passed away at the age of 88. She died in Van Nuys, California, of natural causes. She is survived by two sons, a daughter, four grandchildren, and a brother. (According to the bio on her website, she married Navy Flyer Bob Davis in 1955.)
RELATED: The Top 10 Baseball Movies
The Los Angeles-born Paire-Davis, who penned the memoir Dirt in the Skirt in 2009 and was a consultant on Penny Marshall's A League of Their Own (in various interviews, Paire-Davis said the movie accurately portrayed about 80 percent of what really happened), played the positions of catcher, third base, and shortstop and helped her teams win five championships. She played for the the Minneapolis Millerettes, Racine Belles, the Grand Rapids Chicks, and the Fort Wayne Daisies, though she never actually played for the team on which her character played for in A League of Their Own, the Rockford Peaches. "We played every night of the week," she told the AP during an interview in 1995, "doubleheaders on Sundays and holidays." During her baseball career she had 400 RBIs, which ties her for fourth in league history. In 1950, she drove in 70 runs in 110 games for the Chicks.
RELATED: In Defense Of The World Series
"Pepper," who co-wrote the league's "Victory Song" (the very same one heard in the movie that goes: "We're all for one / We're one for all / We're All-Americans!"), played 926 games until the league was "temporarily suspended" in 1954. Though play never resumed for the A.A.G.P.B.L., Paire-Davis continued to play ball and took part in various speaking engagements, memorabilia signings, and helping with causes close to her heart. According to her official website, she was a member of the Board of Directors and Sports Council of the Paralysis Project and was the first woman coach for the World Children's Baseball Fair.
And while there may be no crying in baseball, forgive us for getting choked up for what Paire-Davis told the AP: "I know what it's like for your dream to come true, mine did. Baseball was the thing I had the most fun doing. It was like breathing."
[Photo credit: Bill Kostroun/AP Photo]
---
You Might Also Like:

Biden? Ford? Surprisingly Hot Young Pics of Politicians

Who Wore This Crazy Hat?

Stars Who Changed Their Look After Love