A Spice Girls Musical Is Really, Really Happening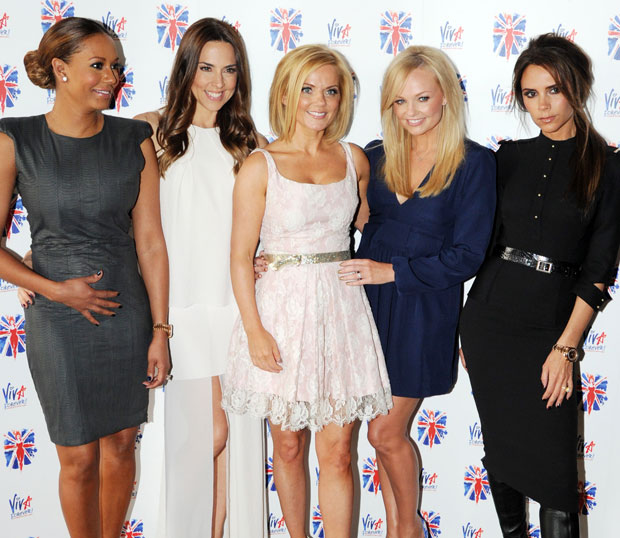 This is an international travesty! No, it's not that there is going to be a Spice Girls musical, because that sounds kind of awesome, but that there is going to be a Spice Girls musical and it is not called Zig-a-Zig-Ah: The Musical. How could the world waste such a golden opportunity for music's most recognized nonsense phrase to get the attention it deserves.
Instead the project will be called Viva Forever Exclamation Point. Is this a show about living forever, the Fountain of Youth, or Betty White? No, it's about Spice Girls music. What a stupid name. Anyway Posh, Scary, Sporty, Baby, and Ginger all gathered in London today to announce that the musical will open in December in London at the Picadilly Theatre, which sounds more like something that would appear in a children's book about a performing troupe of animals rather than an actual place.
The show is about a girl who becomes famous overnight (does she join a reality show or release a sex tape?) and the effect that has on her family, friends, and her life. In between the story they sing the Spice Girls songs like "Wannabe", "All Around the World," and, um, all the other ones. There should be some good jokes in the show, since it's written by Jennifer Saunders, the British mastermind of Absolutely Fabulous and all sorts of other hilarious things. She's also the last living creature to see Victoria Beckham smile, so that should tell you something. If you want tickets to The Musical That Should Have Been Called Zig-a-Zig-Ah: The Musical you can get them on the show's website.
Follow Brian Moylan on Twitter @BrianJMoylan
[Photo credit: Getty]
More:
Saunders: 'Spice Girls musical helped me through cancer battle'
Spice Girls Might Reunite For Summer Olympics in London