Abercrombie & Fitch Only Wants Your Business If You're Thin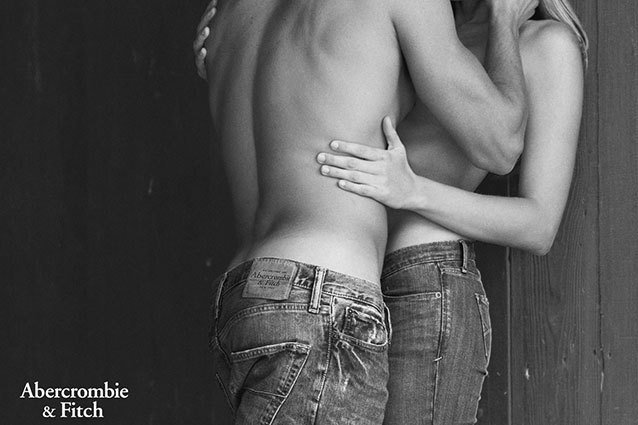 Is Abercrombie & Fitch still a thing with the young folks? I thought it had lived out its cool period shortly after the summer of '99, when LFO sang-rapped about liking girls who wear the brand and also becoming ill due to Chinese food. Of course, A&F has made intermittent bids for my attention since then: I think they put out a risqué catalog once or twice in the early aughts, and I know they're always attempting to asphyxiate me by pumping their noxious cologne into malls and assaulting me with bare-chested boys at their store entrances.
So it's funny that the company systematically snubs anyone outside its thin, young, and beautiful demographic, even while it continues to pant for attention from the likes of me, a 30-something professional woman not about to need short-short cutoffs or cropped sweaters any time soon — and to be fair, from all of us, no matter our age or shape. The New Rules of Retail co-author Robin Lewis pointed out in a recent interview with Business Insider that A&F's men's line runs up to size XXL (to accommodate those rippling muscles, of course), but the women's clothing goes only to a large, or the equivalent of a size 10. (Two-thirds of the clothes-shopping population falls at a 14 or above.) Why try so hard when you only want the skinny young things?
Actually, maybe it's not such a surprise that an attention-hungry brand would clearly and publicly disregard the less-than-perfect specimens among us. Naturally, doing so is one more way of grabbing attention — and possibly becoming known as an elite club, a gross-but-effective marketing strategy. Lewis said A&F's 68-year-old CEO, Mike Jeffries, "doesn't want his core customers to see people who aren't as hot as them wearing his clothing. People who wear his clothing should feel like they're one of the 'cool kids.'" Jeffries himself has suggested as much in the past, explaining that his stores hire only hot employees: "Because good-looking people attract other good-looking people, and we want to market to cool, good-looking people. We don't market to anyone other than that."
A&F may be living in its 1999 glory days, however, while the rest of us consumers are hanging out here in 2013. H&M recently became the latest company to embrace the idea of more realistic models and standards of beauty by hiring "plus-size" — that is, size 12, and still crazy-beautiful — model Jennie Runk to promote its swimwear. Hail to the non-washboard abs!
So instead of buying A&F, I suggest you brighten your day with this video and then go buy an incredibly affordable, responsibly-marketed bikini from H&M:
Hollywood.com correspondent Jennifer Keishin Armstrong is the author of Sexy Feminism and Mary and Lou and Rhoda and Ted, a history of The Mary Tyler Moore Show. Visit her online at JenniferKArmstrong.com.
Follow Jennifer on Twitter @jmkarmstrong
More:
Jennifer Lawrence Talks About Her Weight… Again
Why Kim Kardashian's Bikini Magazine Cover Is Good For America
5 Reasons Ireland Baldwin Is a Good Role Model 
---
From Our Partners:


What Happened to 33 Child Stars (Celebuzz)


40 Most Revealing See-Through Red Carpet Looks (Vh1)