Accidental and Actual Racists Respond to 'Accidental Racist'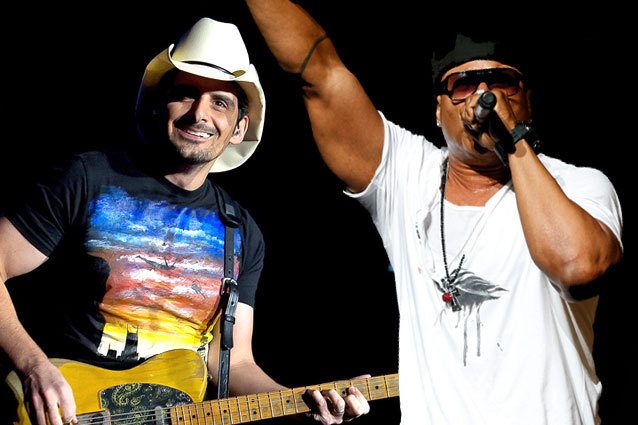 You know what needs more excuses? Racism and bigotry, which are obviously the first two things that came to your mind when asked that question. And you wouldn't be alone in your thought process: just ask Brad Paisley and LL Cool J. Their new song, "Accidental Racist" (yes, you read that right), is currently causing a maelstrom of hatred across most media outlets. But with every scathing blog post about the misguided song comes a completley earnest tweet of support from one of Paisley's proud fans.
"Accidental Racist" is an ode to the intentional ignorance that many of this country's compatriots hold dear: just because someone is proud of the South and also the Confederate Flag doesn't make them racist. (Sure, and the people most commonly associated with the swastika are merely Sanskrit enthusiasts.) Appreciating something — like, say, where you come from, your history, etc. — doesn't make you a bad person. But considering Paisley's song disregards empathy, is totally insensitive to history, and shirks responsibility for the serious harm our own country caused an entire race of people, in this case it sure as s**t makes you one ignorant, priviledged, insensitive motherf**ker.
Call it tough love — whether you're a Black Yankee or a white man living in the Southland (even though, Paisley, being from West Virginia means you would've been a part of the Union, not the Confederate), misguided isn't a good look on anyone. Which is why it's so infuriating to still see these sort of ideas being bandied about as acceptable in 2013.
So if you're feeling like a nice long afternoon of hair-pulling and general hatred of society is just what the doctor ordered, then saddle right up to this here post and check out this sampling of just some of the people who are totally unaware that Paisley and LL's "accidental" racism is actually just regular racism disguised as cultural misunderstanding. Hashtag equality, y'all. Oh yeah, some of the language may be NSFW.
The Accidental Racist Who Believes Hate Should Be Universal:
Everyone is pissed at Brad Paisley for #AccidentalRacist, but not one word about LL Cool J's part in it. It should work both ways, right?

— Matt Douty (@mdouty) April 8, 2013
The Actual Racists Who Are Totally Mad You Stole Their Thunder, Brad:
@bradpaisley How About You Sing This Song..WHITEY AINT DOWN IN THE HOODYOU ARE ALONE BLACK & RACIST & YOUR LIFE IS YOUR FAULT #CMA #OPRY

— HockeyGuy (@HockeyGuy) April 8, 2013
#NotRacist:
I absolutely love Accidental Racist by Brad Paisley feat. LL Cool J. It's been a song that has needed to be done for a while. #speakstruth

— Hannah Thacker (@thack3) April 8, 2013
OMYGOSH I LOVE BRAD PAISLEY SO MUCH! I SAID IT! Everyone freaking out about #AccidentalRacist but he's just telling like it is! #notracist ❤

— Kenzi McConnell (@KenziLouise) April 8, 2013
I love Brad Paisley's new song Accidental Racist #SueMeForIt

— DanielMacak (@HoosierDaddy233) April 8, 2013
Love @bradpaisley. Always have, always will. This is country music, and we do… talk about REAL issues! #Pride

— Valerie Wire (@Valerie_Wire) April 8, 2013
Love @bradpaisley & @llcoolj new single 'Accidental Racist' well done!#southernpride #wheelhouse

— Keith Stubbs (@thekeithstubbs) April 8, 2013
The Accidental Racists Who Like it In Spite of Themselves:
I don't know what you guys are talking about. I hate Brad Paisley's music but I LOVE THAT SONG. It has an incredible message to it.

— Sassy Ms. Bravesluvr (@ebravesluvr) April 8, 2013
The Somebody Finally Gets It! Accidental Racists:
@llcoolj @bradpaisley I love the new song. I think it's about time someone got the conversation started. My faith in music has been restored

— Crystal Clement (@crysisafangirl) April 8, 2013
Love Brad Paisley's new song. Somebody finally understands.

— James Rhodes (@JamesRhodes50) April 8, 2013
@llcoolj Mad respect, love you and @bradpaisley's new single.

— Raaid Bacchus (@roy_id) April 8, 2013
Couldn't love @bradpaisley anymore right now … Being proud of who you are doesn't make you racist

— Drew Vernon (@DrewVernon) April 8, 2013
I honestly love @bradpaisley and LL cool J's song!It's exactly 100% how I feel! Idk why so many people no matter their race don't like it!

— Kasey Anderson (@kaserslynn) April 8, 2013
The Accidental Racists with Refined Tastes:
i really like Brad Paisley's new song but i dont love LL Cool J's part it's not bad it just doesnt fit the song

— Dylan (@magnoliafan82) April 8, 2013
@bradpaisley new song with @llcoolj "Accidental Racist" is getting some terrible reviews, but i love it. Glad someone's finally #honest.

— Angela Lyvers (@ang518) April 8, 2013
So I listened to "accidental racist" um I LOVE the message but the song sucks. As a Brad Paisley fan, I'm disappointed.

— K. Marquez (@KirstieAmberM) April 8, 2013
The Deniers:
@bradpaisley please tell me you're not on twitter and reading these horrible tweets. WE LOVE YOU AND THAT SONG BRAD.

— Kelli McShane (@kellimcshane) April 8, 2013
@bradpaisley Hi Brad. just saw your accidental racist vid and loved it! 🙂 I don't see it as racial at all! The opposite!! 🙂 Love you!

— glittergirl(@glittergirlD43) April 8, 2013
Ignorance may be bliss, but it can't be an excuse for everything. Especially not s**tty music.
Follow @alicialutes on Twitter
More:
Brad Paisley New Song 'Accidental Racist' is (Whoops!) Completely Racist 
The 2013 Academy of Country Music Award Winners
Rating the Grammy Awards: From Best to LL Cool J
---
From Our Partners:


Eva Longoria Bikinis on Spring Break (Celebuzz)


33 Child Stars: Where Are They Now? (Celebuzz)