Adam Levine and Minka Kelly Have a Baby…in a Music Video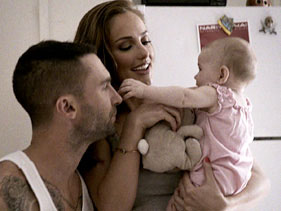 Imagine, if you will, that Maroon 5 front man/The Voice coach/general sexy person Adam Levine procreated with Friday Night Lights star/Derek Jeter's ex-girlfriend/general sexy person Minka Kelly. Imagine a tiny little baby that had the sheer dumb luck of dipping their tiny little baby toes into two such incredibly blessed gene pools. The mind, it boggles at the thought. 
Imagine no more! No, it's not a new "If They Mated" segment on
Conan
. Though they probably couldn't make these two look grotesque even if they tried. Rather, the music video for Maroon 5's latest "One More Night," which features Levine and Kelly as a sexy couple who do things like look sexy and hold their baby. Sometimes at the same time. These two truly are the full package. (In an interview with
MTV
, the 33-year-old rocker said of the actress' involvement, "Minka was kind enough to make an appearance. That was pretty sweet….She's great.") 
Of course, they only look perfect on the outside. See, Levine is a boxer and his baby mama (played by the 32-year-old actress) has just about had it up to here. While he's in a match — which his Maroon 5 band mates watch from the crowd — she packs up and takes off with their super baby. (Let's imagine that she's just going back to go work for the Bravermans. Or find Tim Riggins.) You see, he may have won the fight, but in the end he lost the biggest prize of all. Sexy symbolism! 
Watch all the attractiveness in the Peter Berg-directed clip here. It will almost make you forgive him for Battleship. Almost.  
[Photo credit: Universal Music Group]
More: