Adele Says She Doesn't Use Sex to Sell Records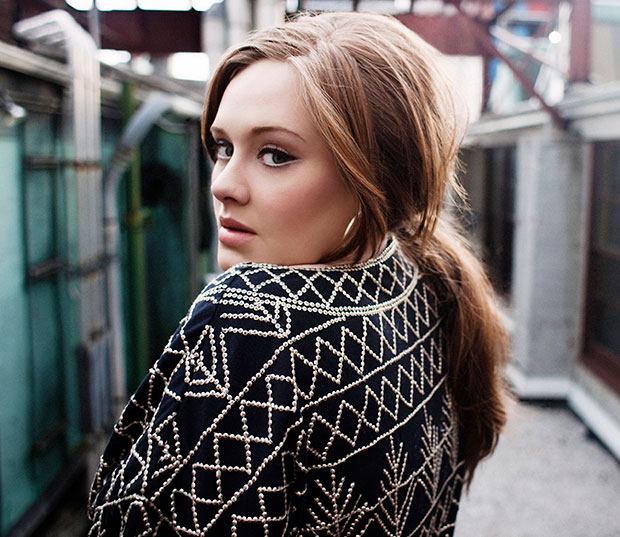 Adele is a six-time Grammy Award-winning artist at the age of 24 and responsible for some of the most heart-wrenchingly beautiful songs of the past few years. Her second studio album, 21, has sold over 23.3 million copies (as of September 2012). In November 2011, Adele underwent corrective vocal surgery for a hemorrhage on her vocal cords, and just three months later she was able to blow everyone away with a show-stopping performance at the 2012 Grammys. She's now pregnant with her first child. And yet, the media continues to focus not on these phenomenal personal and professional feats, but on her weight. And frankly, she is sick of it. Adele told British newspaper The Sun on Wednesday that she uses her talent and not her body to get ahead.
"Exploiting yourself sexually is not a good look," she said of her pop star peers. "I don't find it encouraging." She added, "To sell more records, I don't ned to do that. I just stand there and sing. I'm not worried that I'm a 'plus size' and so much bigger than other artists."
And she's right. All she has to do to wow a crowd is stand at a microphone and sing. Other artists, however, aren't so lucky. Adele doesn't name names in her interview, but I have no such reservations. Rihanna, for one, is not a musician known for her vocal skills. Neither is Katy Perry. Both women can sing, but it is their stage presence, star power and — you guessed it — sex appeal that help them sell out world tours and millions of records.
Adele is without a doubt correct in her assertion that "exploiting yourself sexually is not a good look," but if the artist in question is in control of her costume and choreography choices, is it still exploitation? Lady Gaga, like Perry and Rihanna, has notoriously stripped down on stage (and on her web site), but she always feels in control of her body and her sexuality. Being a sexual being is not synonymous with exploitation — in fact, understanding and appreciating one's own sexuality is nothing short of empowering.
Adele goes on to make a second statement regarding body image that I can get behind, however. "They don't look how they do in magazines or videos. I have seen them up close and they don't even look like that," she said. It's true; the celebrities we admire in the glossy pages of magazines or gussied up in music videos hardly resemble actual humans — makeup and retouching takes care of that. Using these practically-illustrated images of women as ideals of beauty is a dangerous habit, and impressionable girls could benefit from seeing more women like Adele, who embrace their natural bodies, put on a pedestal.
"No matter what you look like the key is to be happy with yourself," Adele concludes. And that, my friends, is the bottom line. Curvy, thin, tall, short — and dare I add, overtly sexy or demure — the key thing is to be happy with yourself. Flaunt what you got, ladies (and gents).
Follow Abbey Stone on Twitter @abbeystone
[Photo Credit: Columbia Records/Sony]
More:
Britney, Jessica, Christina, Adele, Lady Gaga: Stop Body-Shaming Pop Stars
Pregnant Adele Taking "Five Years Off;" Planting a Vegetable Patch
From Our Partners:

Russell Brand Blames Katy Perry Divorce on Incompatibility
(Celebuzz)

(Celebuzz)