After Hurricane Sandy, Public Outraged at Donald Trump's $5 Million Obama Deal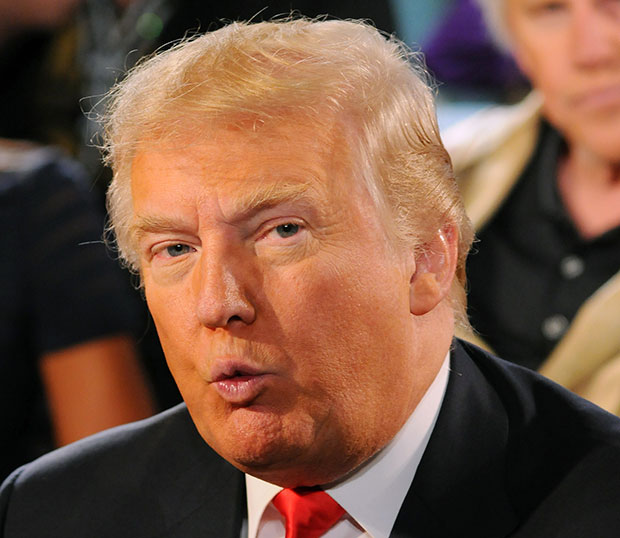 It's official, Donald Trump is truly as tasteless as one of his gold-plated faux rococo monstrosities that dot Manhattan, some of which might be without power today in the wake of Hurricane Sandy. The Celebrity Apprentice host took to Twitter this morning to let President Obama know that, because of the storm, The Donald was extending his deadline for the president to release his college applications and records and his passport applications and records to extricate a $5 million bounty from Trump to donate to Obama's favorite charity. Remember, this was his big "secret" that was going to "change the course of all elections ever of the universe in the most spectacularly amazing fashion that has never before been seen by humans since the dawn of democracy." Yeah, you probably have bigger, less hairy fish to fry right now. "Because of the hurricane, I am extending my 5 million dollar offer for President Obama's favorite charity until 12PM on Thursday," he posted.
OK, a dozen people in New York City have died, hundreds of people have lost their homes to fires and flooding, a big chunk of the island of Manhattan is still without power, and this is what Trump is worried about? Do you think that Obama is really sitting around the Oval Office right now breathing a sigh of relief that he has an extra day for Trump's ridiculous ransom so that he can now figure out how to manage the destruction of the Eastern Seaboard? No, he is not. And Trump reminding us about his vicious vendetta is only making him look stupider than his hair when it's caught in the wind.
The comments on Twitter were quick and vicious. Many users called for Trump to just donate the $5 million to New York hurricane relief, a gesture that seems noble and would garner him a lot more good will than anything having to do with his silly quest to prove that Obama was somehow born in Kenya (something that even die-hard "birthers" don't believe anymore). "How about you stop being a d**k, cease your disrespectful demands and donate the money to NY disaster relief," wrote @Embassy730. Other responders were just as outraged and colorful, but none as inventive as @JohnnyPalomba, "extend your millions for the cat on your head." You took the words right out of my mouth.
Follow Brian Moylan on Twitter @BrianJMoylan
[Photo Credit: Ivan Nikolov/Wenn]
More:
Stephen Colbert Makes Donald Trump An Offer He Can't Refuse
Donald Trump's Barack Obama Secret: What Could It Be?
Donald Trump vs. Rosie O'Donnell: The Feud is Back On

Kate Upton's Sexiest Viral Videos
(Celebuzz)