Alec Baldwin and Hilaria Thomas Are Married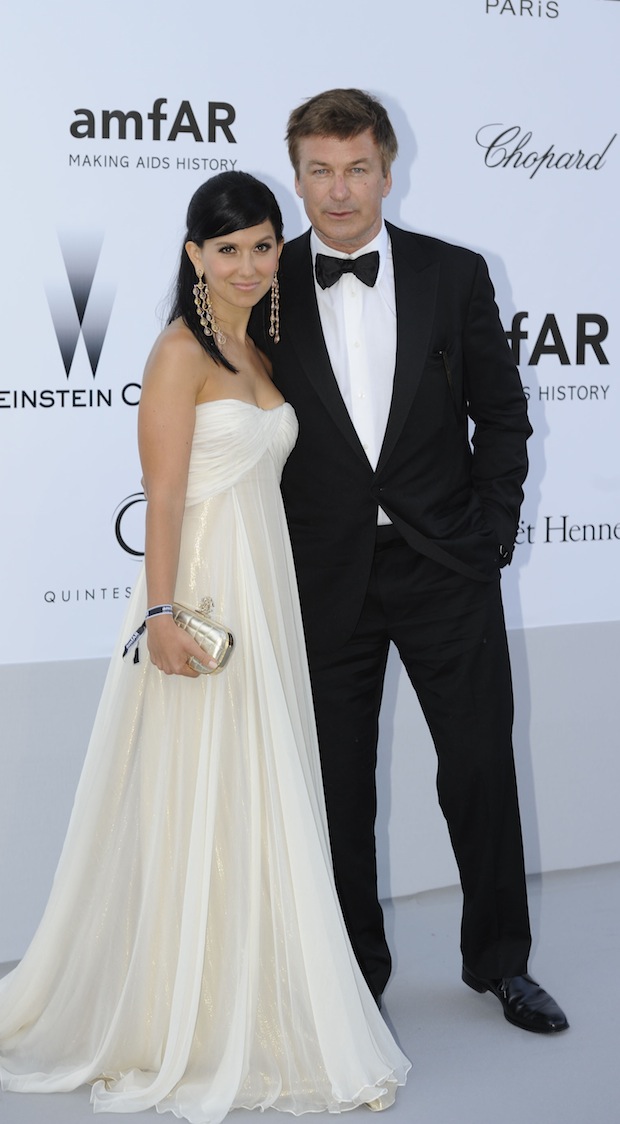 It seems like a daily, well almost daily, phenomenon that Alec Baldwin's name is in the news as of lately. Last week, he made headlines when he was pictured punching a New York Daily News photographer in the face, then parading around NYC with a sheet over his head, and again when he dropped his pants on Letterman. But Baldwin didn't stop there. On Friday, he was pictured again getting into a verbal tussle with another paparazzo. But, thank goodness, Baldwin makes headlines Saturday for a completely different reason, and this time, it's actually a quite joyous one: He and his fiancee Hilaria Thomas have finally said, "I do."
"Hilaria Thomas and Alec Baldwin were married this evening at St. Patrick's Old Cathedral in New York City, sharing the occasion with family and friends inside the Cathedral, and Alec warmly receiving congratulations from well-wishing fans on his way into the service," Matthew Hiltzik, a friend of the couple, tells Hollywood.com.
According to a pal, the reception was held at NYU Kimmel Center. Of course, Thomas had the best of the best when it came to her gown. "Hilaria wore a silk magnolia trumpet Amsale gown with cap sleeves and a keyhole back neckline accented with crystal buttons," the pal describes to us. Amsale also was in charge of dressing Hilaria's mother and Baldwin's 17-year-old daughter, Ireland — who wore a "slate silk chiffon gown with a strapless neckline and a lightly pleated bodice." Balwin opted for a rather fashionable Tom Ford suit.
What's interesting about this wedding is the way that the couple reportedly invited their guests. According to the New York Post, Baldwin might have possibly waited till the day of the ceremony to give wedding guests their invites. So how did he send out the information so quickly? The Post suggests that Baldwin was planning to utilize his cellphone. No, he didn't personally dial every guest — but instead reportedly planned to invite guests with a simple text message. Spam anyone?
However Baldwin got the details out, his wedding sure did turn out to be a star studded event. Celebrity guests included: Woody Allen, Tina Fey, Robert Kennedy Jr., and Baldwin's brother Billy Baldwin.
Baldwin, 54, and Thomas, a 28-year-old Yoga instructor, first started dating in the summer of 2011. And, in January of 2012, Baldwin said he desired to have more children (he already has Ireland from his previous marriage to Kim Basinger), something that likely pushed Baldwin to propose just four months later in April.
Congrats to Baldwin and Thomas on this joyous evening. And hopefully, the paparazzi don't get in Baldwin's way tonight.
[Photo Credit: WENN]
More:
Angry Alec Baldwin Strikes Again, Slams a Pap in the Face
Alec Baldwin Gets in a Fight Holding a Pillow Pet — PIC