Alec Baldwin's Three-Step Process to Confronting Controversy
Controversy might as well be Alec Baldwin's middle name. After all, in recent years, the 54-year-old 30 Rock star seems to find himself facing PR disasters in the most unexpected of places. Just Tuesday, pictures revealed the actor getting into a scuffle with a New York Daily News photographer (who has since filed a misdemeanor assault charge against the actor) while exiting New York City's Marriage License Bureau. But instead of just letting the heat surrounding him fizzle, Baldwin decided to fight fire with fire.
Not only did he unleash his anger on Twitter following the incident — tweeting, "I suppose if the offending paparazzi was wearing a hoodie and I shot him, it would all blow over…" — but Baldwin next decided to send a message to paparazzi by walking around NYC with a sheet on his head.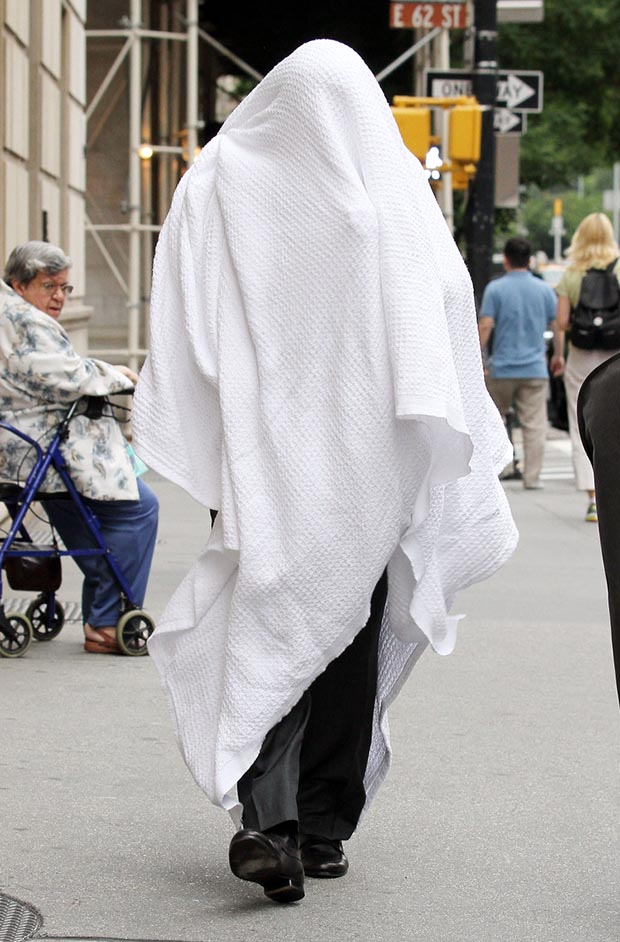 Of course, now it's only a matter of time before we see Baldwin jumping on TV to poke fun at his paparazzi fight. Will the jokes roll out on a commercial, a late night show, or even in a Funny or Die video? Yes, please, to any of those!
Because any Baldwin fan would realize by now that the actor has a three-step process when it comes to handling controversy: First, he finds himself in an argument with a key party; Second, he reacts in a ridiculous manner to whatever happened by taking out his emotions on Twitter, blogs, or simply by just hiding under linens, and; Third, he finds an outlet to make fun of himself.
Don't believe us? Let's take a look back at Baldwin's three-step process in incidences past:
Alec vs. American Airlines
Step 1) The Argument: American Airlines kicked Baldwin off of a flight on Dec. 6, 2011 after he refused to shut down his iPhone. Turns out, you're not the only one who's a Words With Friends addict.
Step 2) The Reaction: Baldwin penned a rather long blog on The Huffington Post in which he complained about his mistreatment after being loyal to AA "for over 20 years." In the post, he not only attacked the Airline saying that it provides "filthy planes, barely edible meals, [and] cuts in jet service," but he also referred to the flight attendant that yelled at him in the first place as a "1950's gym teacher."
Step 3) The Jokes: Baldwin spoofs the incident on Saturday Night Live and on a Capital One ad. Watch the SNL video below!
Alec's Anti-Bush Campaign
Step 1) The Stunt: According to his ex-wife, Baldwin reportedly said he would move to Canada if George W. Bush was elected as President during the 2000 elections.
Step 2) The Reaction: When Bush's term finally came to an end, Baldwin wrote a blog titled: "The Bush Nightmare is Over."
Step 3) The Jokes: Baldwin visits The Daily Show with Jon Stewart and denies making Bush comments. Watch below.
[Photo Credit: Felipe Ramales, PacificCoastNews.com]
More:
Angry Baldwin Slams a Pap in The Face