Alex Karras, Star of 'Webster' and 'Blazing Saddles,' Dies of Kidney Failure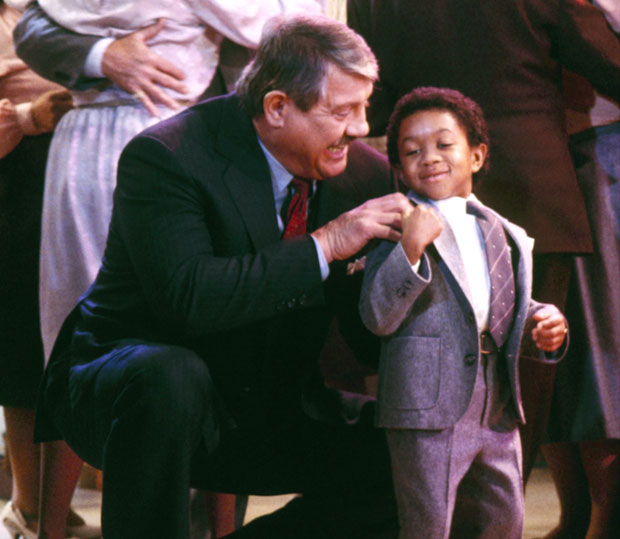 Following a trying war with kidney failure, former athlete and actor Alex Karras passed away Wednesday at the age of 77. Karras died in his Los Angeles home at the age of 77, surrounded by his family, as reported by Boston.com. Football fans will remember Karras as defensive tackle for the Detroit Lions, while television audiences will recall the actor's costarring role on the 1980s sitcom Webster.
Karras was born in Gary, Ind. In 1935 to a Greek father and Canadian mother — Karras and his two older brothers all pursued careers in the National Football League, with Alex also exploring the worlds of professional wrestling and acting.
Following several smaller television roles, Karras took his first big screen spot in Mel Brooks' classic 1974 screwball comedy Blazing Saddles, playing the fan favorite character of Mongo — a monstrous behemoth with a foul temper and a penchant for quick asides of philosophical insight.
The actor maintained a big screen prominence with major roles in 1970s comedies like Win, Place or Steal and FM, breaching the '80s with films like Porky's and Victor Victoria.
But Karras' most memorable contribution to Hollywood is undoubtedly his character of George Papadapolis, father figure on ABC's Webster, playing opposite real-life wife Susan Clark and Emmanuel Lewis. On the series, Karras played a former football player who adopted the son of his old teammate after the latter and his wife are killed in a car accident.
Prior to Clark, whom he married in 1980, Karras was married to Joan Jurgenson from 1958 to 1975. He has five children with Jurgenson and one with Clark.
[Photo Credit: ABC/Getty Images]
More:
David Cross and Amber Tamblyn are Hitched!
Nick and Vanessa Lachey Welcome Their Baby Boy, Camden John