Alicia Keys Joins BlackBerry: "Creative Director" Title is Hollywood's Cool New Accessory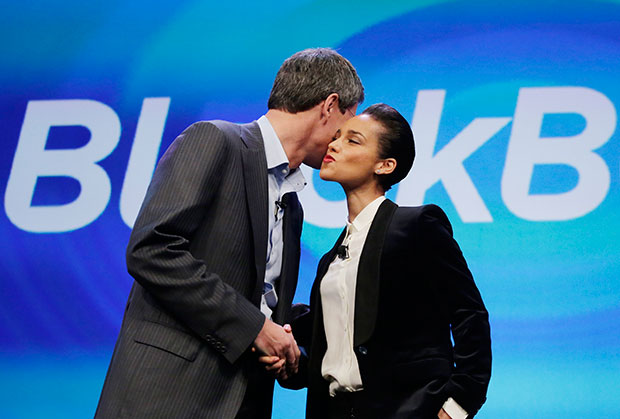 Alicia Keys has been named "creative director" of BlackBerry, which might sound like the singer is giving up her pop career for corporate life. Maybe she'll get a corner office! Maybe she'll take some night classes toward her MBA! Or maybe she's just the latest in a long string of celebs with fairly demanding day jobs snagging this honorary-ish title from corporate sponsors.
Justin Timberlake took on the position to help inject some hip-factor into the much-ailing MySpace. He bought an ownership stake in the Facebook forerunner, which certainly speaks to his commitment, though so far his plans to "lead the business strategy with his creative ideas and vision," as the CEO of MySpace's parent company put it, has had little effect on its public image. If only people paid half as much attention to poor MySpace as they did to JT's countdown to his new single, "Suit and Tie," he'd have done his job — though if anyone can work this kind of magic, it's Timberlake.
Lady Gaga even got a business card with the same title at Polaroid back in 2010. (Love the idea of Gaga commuting to the office in Minnesota.) She proudly took on the role of "creative director and inventor of specialty products" and helped produce a line of cool-sounding products — a mini-printer for smartphone photos, sunglasses with video recording capability. Lesson: Never doubt Gaga's creativity and inventiveness. We wouldn't be surprised if she did go to the office in Minnesota.
Ashton Kutcher, on the other hand, became the much-less-official-sounding "president of pop culture" at PopChips in 2010 to fairly disastrous results: his dating-site-spoof ads were pulled amid charges of racism. Katy Perry, the brand's new spokeswoman, does not appear to hold even a pretend position of authority at corporate headquarters.
Keys, meanwhile, is presumably digging into her new job by learning how to use a BlackBerry. She was an iPhone customer up to just four days ago, The New York Times reports. Given that BlackBerry is the MySpace/Polaroid of smartphones, she's got her work cut out for her.
Hollywood.com correspondent Jennifer Keishin Armstrong is the author of two forthcoming books, Sexy Feminism (due out in March) and Mary and Lou and Rhoda and Ted, a history of The Mary Tyler Moore Show (due out in May). For more information visit JenniferKArmstrong.com.
Follow Jennifer on Twitter @jmkarmstrong
[Photo Credit: Mark Lennihan/AP Photo]
More:
Alicia Keys Goes Spielberg at Sundance: 'Inevitable Defeat' Is a Tale from the Concrete Jungle
Alicia Keys to Sing National Anthem at Super Bowl: 5 Star-Spangled Fails She Won't Make
Justin Timberlake to Perform at the Grammys: Will He Wow Us?

'Hunger Games: Catching Fire': Spoilery Pics From Google Maps