Alicia Keys to Sing National Anthem at Super Bowl: 5 Star-Spangled Fails She Won't Make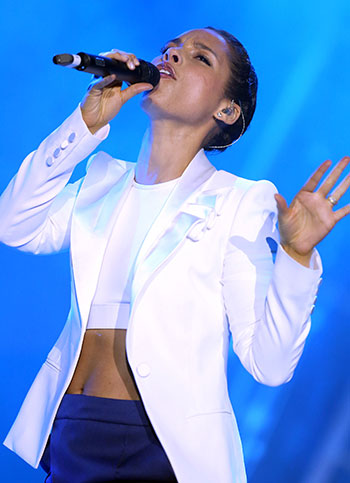 Beyoncé (flanked by  Destiny's Child!) won't be the only diva to show off her chops at the 2013 Super Bowl on February 3 — Alicia Keys has just been tapped to perform the National Anthem, the Associated Press reports. While this news has not yet been officially confirmed by Keys or CBS, the AP sites "a person familiar with Super Bowl entertainment plans" as its source. Regardless of the source, this is good news.
Keys has a killer voice, just ask anyone with eardrums or one of her 14 Grammy awards, and when it comes to belting the "Star-Spangled Banner," that's all that matters. Forget the bells and whistles, forget the vocal acrobatics; all it takes to score with one's anthem performance is natural talent. And, it goes without saying, a good handle on the lyrics.
Well, maybe the lyrics thing doesn't go without saying… Some of the most embarrassingly terrible "Star-Spangled Banner" performances in recent memory fell victim not to strained vocal cords, but to memory lapses. But don't get us wrong, there have been plenty of off-key performances as well. Below are the five worst National Anthem performances of all time — Keys, take note.
Christina Aguilera at the 2011 Super Bowl
Aguilera is one of the best singers today, but that didn't stop her from giving a truly horrendous "Star-Spangled Banner" rendition. The words you're looking for are "O'er the ramparts we watched," hun.
Kat DeLuna at a 2008 Dallas Cowboy's Game
Girlfriend thinks she's all that, when in reality, she's a bit flat. (And when we say "a bit," we're being generous.)
Michael Bolton at a 2003 Red Sox vs. Yankees Game
Seriously, dude? You were so sure you were going to forget the words you wrote them on your hand ahead of time? Sounds like a self-fulfilling prophecy to us.
Scott Strap at the NASCAR Ford 400 in 2005
He may be the "Grammy Award-winning voice of Creed," but he also sucks at singing the National Anthem. By our count, he hits about 46% of the right notes.
Steven Tyler at the 2012 AFC Championship Game
He's Steven f**king Tyler of Aerosmith, so of course his rendition will be a bit more, umm, rock and roll. But that's no excuse for forgetting the words or the raspy scream/choking thing that happens at the 1:05 mark.
If you're looking for inspiration, Alicia, we suggest you watch the below. Let Whitney show you how it's done.
Follow Abbey Stone on Twitter @abbeystone
[Photo Credit: Judy Eddy/Wenn]
More:
Some Morons Think Neil Patrick Harris' Super Bowl Ad Mocks Christianity
Beyoncé To Heat Up Super Bowl Halftime Show
Taylor Swift, Pink, Alicia Keys Tapped for VH1's 'Storytellers'

54 Cutest Celebrity Kids! (Celebuzz)