Alicia Silverstone Wants Vegans to Stop Hogging Their Breast Milk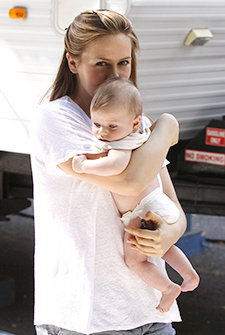 Alicia Silverstone — vegan, cookbook author, mother, former virgin who can't drive — has launched an initiative through which new vegan mothers can share their breast milk. Talk about a niche market.
On June 25, Silverstone announced on her blog The Kind Life that, after talking to a new mother who is having a hard time creating breast milk of her own, she will be starting a cooperative for women with similar lifestyle and diet choices (i.e. vegan) to share breast milk. 
"A lot of women unfortunately have a similar struggle, and there's no reason why they shouldn't be able to give their babies the most amazing start in life with clean, mean, glorious breast milk," Silverstone writes. "And because we are a community of beautiful souls who recognize the importance of food as health, I say we help support those mamas and babies who need a hand during one of the most important times in their lives. It's why I'm starting the Kind Mama Milk Share, a way for moms to connect with other moms in their area. If you have milk to share — post it! If you are in need of milk —post it! Think of all the babies we can help raise together!"
What a lovely, conscientious, hippie thing to do! 
Silverstone's new venture also answered an age old question: that vegans (or vegan offspring, at least) do indeed imbibe breast milk. While other forms of milk are verboten due to the animals' lack of consent, human mothers are able to freely give their milk, making the liquid kosher. (Well, not actually kosher, I don't think, but allowed.)
But this raises an interesting ethical question about veganism. If meat from a human is freely given, is that also allowed? If no animals were harmed in the making of a delicious human kidney pie, and Joe Shmoe didn't want his kidney anyway, is it vegan? Heck, is Hannibal Lector a vegan? This might be a game-changer. 
Follow Abbey on Twitter  @AbbeyStone | Follow Hollywood.com on Twitter @Hollywood_com 
More:
Alicia Silverstone Joins Lifetime Pilot 'HR' 
Jessica Simpson Gives Birth to Second Child, Ace Knute
We're Not Surprised that Blue Ivy Carter is the Most Fabulous Baby 
---
From Our Partners


Stars Pose Naked for 'Allure' (Celebuzz)


20 Grisliest TV Deaths of 2012-2013 (Vulture)