Alleged Aurora Shooter James Holmes Makes First Court Appearance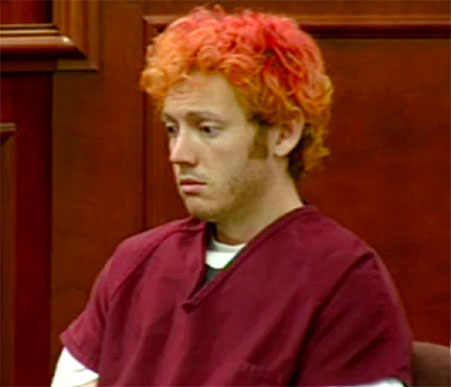 On Monday — three days after 24-year-old James Holmes allegedly opened fire at a Dark Knight Rises midnight screening in Aurora, Colo., killing 12 people and injuring dozens others — the suspect made his first, brief court appearance for a routine hearing. At the hearing, Judge William Sylvester informed Holmes that he will formally charged on Monday, July 30. Public defenders were assigned to his case.
Holmes appeared in court, handcuffed, with his hair still dyed red, as per rumors surrounding the suspect. Throughout the hearing, Holmes sat silently, revealing a drowsy, stone-faced demeanor. 
Denver, Colo.'s ABC Channel 7 news reported that Holmes — currently behind held without bond — may face the death penalty; DA Carol Chambers said the case is likely to be in progress "at least a year."
The prosecution is presently still gathering evidence against Holmes. The courthouse — which was also attended by members of the victims' families — was heavily guarded with security forces.