Beastie Boys' 'Sabotage' — Still Amazingly Watchable Nearly 20 Years Later
Ever look back at some of today's music videos and think, "Man, I wish at least one of the dudes had a comically long mustache?" Well, lucky for us, the Beastie Boys made that very video in 1994. Directed by Spike Jonze, "Sabotage" was made as an homage to 70s cop shows like Starsky and Hutch and Hawaii Five-O, and even 20 years later is still one of the most weirdly-engaging music videos to watch. Here's why.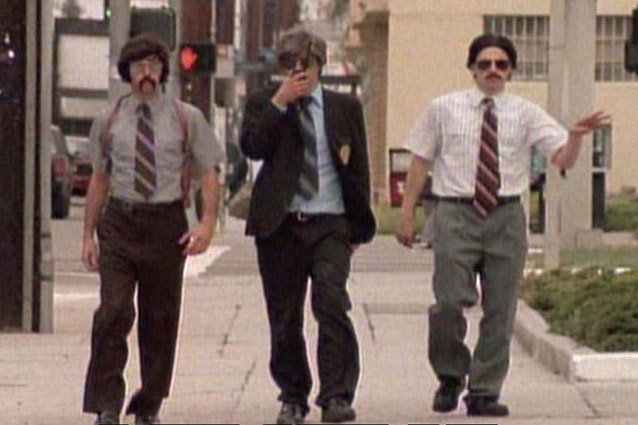 Yeah, Cops Sagged Their Pants Too in the '90s
That the Beastie Boys were trying to make a '70s cop parody, yet still wore pants that were three sizes too big is just downright comical. It also forever cements the video's place in the annals of MTV Ninetydom. Almost brings a tear to my eye just thinking about it.
Funny Names Mean Big Laughs
Most music videos nowadays are bloated epics that try to attempt to tell a story in a few minutes. Yet by simply giving their characters colorful names in the fake credits at the beginning, like Bobby the Rookie, Cochese, and "The Chief," the Beastie Boys succeeded in telling a full-on story in just over three minutes. Besides, names like John and Dan are just too boring.
Wigs Were Cool
Hair may have been in during the '70s but Jonze and the Beasties took the mop top to a whole new level back in '94. Whether they were grey, chestnut brown or pearly white, there was no shortage of big gaudy wigs in "Sabotage." Now if only they could have been as authentic with the vehicles used in the video. I would have like to have seen at least one Town Car being driven. 
More:
When Pop Stars Clash With Their Own Fans
It's Time We Talk About Ariana Grande
Kanye Goes To Kazakhstan

---
From Our Partners:


40 Most Revealing See-Through Red Carpet Looks (Vh1)


15 Stars Share Secrets of their Sex Lives (Celebuzz)