AMA Performances from Best to Worst: Did Taylor Swift Steal the Show?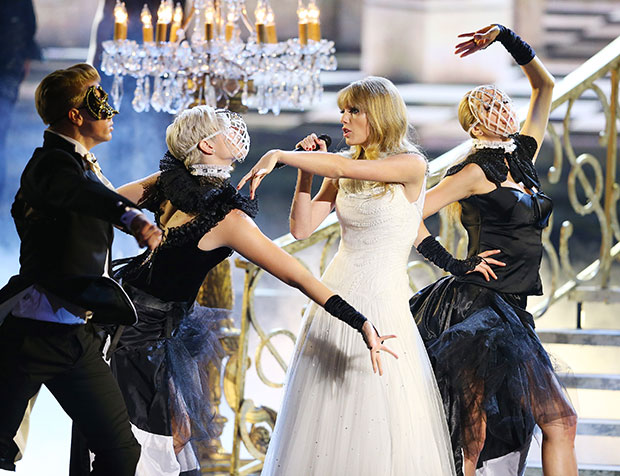 In a landscape that includes the industry-topping Grammy awards, the outrageous MTV Video Music Awards, and the chart-determined Billboard Awards aimed at crowning the king or queen of record sales, one music awards show stands alone: the populist, fan-vote-based
American Music Awards
. It's an event in which artists pay tribute to the folks who shell out beaucoup bucks for t-shirts, concert tickets, iTunes albums, and over-sized gel pens with Taylor Swift's face on them. (That's a thing, right?)
But when it comes to performances, unlike the VMAs broadcast, which attracts stage shows with the least clothing and the most dry humping, or the Grammys which includes performances aimed to uphold the musicality above Vegas-level antics, the AMAs are where artists' crazy, outlandish ideas are unleashed upon the masses. And with that freedom for the artists to realize their wildest dreams comes some consequence: while a few performances succeed in their brave attempts, many crash and burn into tiny little mountains of ash, swept away by the next presenter with a Samsung-sponsored cellphone-awards-envelope. 
Here's how the 2012 lineup shook out:
Best Performances: Better Than the PR Goldmine of the Justin-Selena Breakup a Week Before the Ceremony
No Doubt Back in Action
Gwen Stefani may be better dressed than the blue-haired sailor punk from the 90s, but she and her trusty band are back to their original on-stage fervor. While other performers needed dancers and props to bring it, Gwen and Co. simply performed at the top of their game. They got a little assistance in the form of graphics on the screen behind them, but the camera couldn't seem to pull itself away from Stefani's energetic dance. 
Stevie Wonder Pays Tribute to Dick Clark
You can't go wrong with Stevie Wonder (even if his backup singers insisted on unnecessarily jazzing up the "La-la-la-la-las" in "My Cherie Amour") and an emotional tribute to a legend like Clark. It was the perfect mix of upbeat and heartfelt, and in that way, the perfect way to thank Clark for his contributions to the music world. 
Christina Aguilera: Girl, Let That Freak Flag Fly
Yes, Xtina should probably hire a new stylist because the star-boob goddess look is not her friend, but when her performance exploded in an unbridled display of acceptance and free expression, it was hard to come down on her for whatever that dress was. (Of course, we'll also try to forget the end-cap which resulted in her joining Pitbull onstage. As far as we're concerned, her show ended with a parade of free love picket signs and an auditorium-sized glitter bomb.)
P!nk's Artistic Expression
After blowing our minds at the 2010 Grammys with her aerial performance, P!nk has a standard to uphold and this year's rendition of "Try" certainly kept up. Using a simple, yet well-rehearsed modern dance routine inside a broken, burning house with only a single dance partner, P!nk kept her vocals strong and the visual element, while slightly gimmicky, was clearly an artistic expression of the song itself. America may love flashy, goofy stuff, but this was wonderful.
Justin Bieber Unplugged
Yes, he eventually broke out in an explosion of crotch-grabbing and Nicki Minaj-humping, but Bieber's performance started with "As Long as You Love Me." Whether or not you're a Belieber, you've got to admit that it's nice to see the kid can do more than hop around to a chorus of screaming 14-year-olds.
Kelly Clarkson's Long, Not-So Windy Road
The ultimate girl power pop star took us on a journey from her American Idol roots to her present era of Greatest Hits territory, and women with hearts everywhere loved it. And those who didn't are just lying.
Worst: More Embarrassing than Eric Stonestreet's Self-Proclaimed "Tispy" Presenting Skills
Does Ke$ha Even Know Where She Is?
Ke-dollar-sign-Hah's music is a mix of hair-glitter, the feeling of four days without sleep, and nausea, but her performance was even more of a hot mess than expected. Ke$ha marched around the stage, unsure of the dance move some poor choreographer spent days on end teaching her, until she finally gave up and sprawled out on the floor, shouting out lyrics like a petulant child. Riveting stuff. 
The Wanted's Flaming Disappointment
These boys stood on wiry pillars in front of a screen full of flames, hopped down for a second, then hopped back up. And all the while, we were wishing they were One Direction.
Carly Rae Jepson's Lack of Commitment
You've got a new song, girl, and most of us are already singing "Call Me Maybe" whether or not we want to be. Commit! Don't cut off your new single just to giggle sing the song most of us wish we could forget!
Taylor Swift's Unsure, Unmasked Ball
Swift delivered a performance of her darker new single "Trouble," and the set-up was fantastic. Swift was set up as a beautiful princess, descending the stairs at a ball, only to break down into some sort of dark angel now that she's worked through all her man trouble. The song's powerful chorus could have actually made for a thrilling number, but Swift was clearly uncomfortable with going dark. Let loose, lady! That's all it would have taken to land in the "Best" section of this list.
Psy + MC Hammer = What? Why? Why is This Happening?
Look, I get that Psy is a big deal on YouTube, but hasn't this fad run its course yet? Why haven't we realized that the Gangnam Style dance is just a wrists-crossed version of the
dance for Sugarhill Gang's "Apache"
?
>
[Photo Credit: Michael Tran/FilmMagic]