Amanda Bynes' Alarming Eating Disorder Tweet Has Us Worried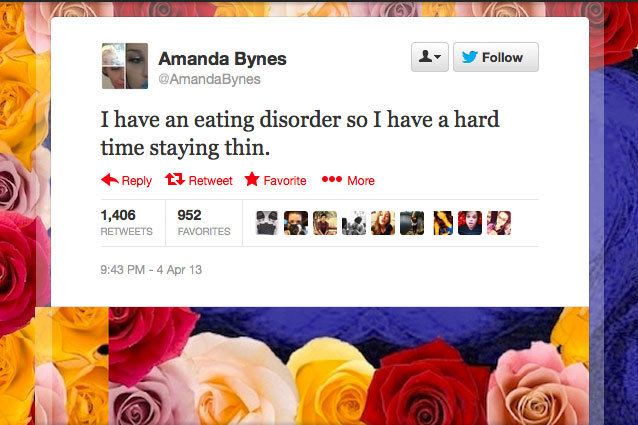 Our slight bemusement and casual concern with Amanda Bynes' erratic behavior turned to genuine worry for her health and well-being literally overnight when we awoke to a tweet from the former actress Friday morning. "I have an eating disorder so I have a hard time staying thin," Bynes tweeted. 
Bynes' twitter confession comes on the heels of troubling comments about her weight she has made in the past. In February, 5′ 8″ Bynes told Us Weekly, "I moved to New York City and I love it! I lost 4 lbs. since I moved. I'm 121 lbs — my goal is 100 lbs," and "I gain weight quickly so I need to work out constantly." Bynes has since tweeted "Skinny's the f**k ." You don't need a medical degree to diagnose this as unhealthy behavior. 
The second half of Bynes' announcement — that it is because of her eating disorder that she has "a hard time staying thin" — is especially disconcerting because it seems to indicate that she has not yet sought treatment for her problem. Instead of turning to a friend, family member, or health professional, Bynes has proclaimed her eating disorder to the World Wide Web. 
RELATED: Are Celebrity Eating Disorder Confessions Dangerous?
Dr. Judith Brisman, Director and Founder of the Eating Disorder Resource Center in Manhattan, sees this as a worrisome practice. "[Her tweet] doesn't necessarily imply how serious it is and that people really need to get help," Brisman says. "Is she talking about the kind of help she gets? That might be even interesting for her followers to know. What do you do? Who do you talk to? Who do you go to first, besides your million followers?" 
And, dangerously, Bynes' tweet plays into the trend of discussing eating habits and unhealthy aspirations of thinness online. "Twitter is exacerbating [the "pro-ana" culture], because you can tweet to people who are trying to lose weight and it can be very rapid-fire and spur immediate conversations about how to help someone lose weight more," Brisman says. "So I think that in a problematic way it can gain this sort of unwanted support for problematic behaviors."
Brisman echoes the immediate concern felt by many when she says, "There is the implication that just voicing [your disorder] like that is going to be helpful. But treatment involves both focusing on the behavior and looking at how those behaviors can change and also understanding more why those behaviors are happening — and that's not going to happen on Twitter." 
RELATED: Jennifer Lawrence Talks About Her Weight… Again
Brisman also points out that when used in such a casual fashion, as Bynes did, the words "eating disorder" themselves begin to lose their meaning and their emotional resonance. "What's happening is that through Twitter and social media people can talk about really vulnerable, intimate things in a way that shows no pain," Brisman says. "The words themselves are what's whitewashing the vulnerability. So [Bynes] is not tweeting and saying, 'Hey guys, I'm having a really rough time. This is really hard for me.' No, she leads with the anger — which is what is provoked on Twitter, people like angry blogs and tweeting. So what you miss is the vulnerability and the difficulty." 
"Is it okay to talk about being vulnerable?" Brisman continues. "What does that mean, and what would that mean on Twitter?"
For Bynes, her vulnerability on Twitter often takes the form of a poor self image that goes deeper than struggles with weight. "It doesn't matter what you think about yourself," Bynes tweeted on March 28. "All that matters is what your lover thinks of you." And again on Wednesday, "When you're in love, only one persons opinion of you matters." Gaining your sense of self-worth from others' opinions is a dangerous and disheartening practice. Appreciation — for your body, your person, your place in the world — begins with an acceptance of your self, not another's love. 
RELATED: 8 Life Lessons for Amanda Bynes
Hopefully, Bynes' Friday morning eating disorder tweet is a harbinger of help to come — it could be the first step in developing that much-need (and sometimes hard to find) sense of self-worth. Maybe Bynes, like many people struggling with eating disorders, just doesn't know what the second step towards recovery is. "Our culture is so confusing about what healthy eating is," Brisman says. "So to normalize what healthy eating is is very confusing. But if you are confused talk to someone who has some sense of where it is problematic, and where does it interfere with your life."
"Go to a teacher you like. Go to a friend, a parent, go to the school nurse," Brisman says of finding help. "Or go online — through the National Eating Disorders Association (NEDA) you can go online and ask questions." Brisman also recommends those seeking treatment should look up eating disorder professionals in their area — NEDA has resources for this — or find a free support group. In finding the bravery to voice your fears and express your vulnerability, recovery from eating disorders are possible. But tweeting your eating disorder — if that's the path you choose — should be the first step on that road, not the destination. 
Follow Abbey On Twitter @AbbeyStone
[Photo Credit: Twitter]
---
From Our Partners:


40 Most Revealing See-Through Red Carpet Looks (Vh1)


33 Child Stars: Where Are They Now? (Celebuzz)