Amazing Spider-Men: Stacking Up Andrew Garfield and Tobey Maguire

Ten years ago, we headed to the cineplex to watch Spider-Man duke it out with the Green Goblin. But in The Amazing Spider-Man, which hit theaters Tuesday, we have a new villain to root against: The Lizard. Oh yeah — and a new hero. In Marc Webb's reboot of the franchise, Sam Raimi's main man, Tobey Maguire, has been replaced by 28-year-old Andrew Garfield.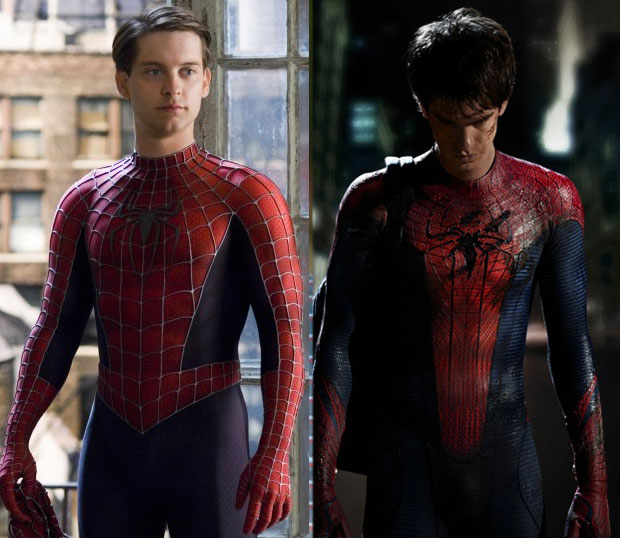 It's a difficult adjustment for die-hard fans of the 2002 origin story. So to prep you for the transition, we've decided to take a deep dive into the two actors and break down their Hollywood pasts and presents.
Biggest Box Office
Maguire: Maguire's best showing in theaters was, in fact, the original Spider-Man, which came out in 2002. According to Hollywood.com's own Paul Dergarabedian, the movie earned $403,706,375.
Garfield: Garfield's highest-grossing role was Facebook co-founder Eduardo Saverin in 2010's The Social Network. According to Dergarabedian, it made $96,962,694 — and Garfield a household name.
Clout in the Industry
Maguire: Maguire hasn't secured Hollywood's most coveted statue (the Oscar), but the actor was nominated for a Golden Globe in 2010 for Brothers. He lost to Crazy Heart's Jeff Bridges.
Garfield: Newcomer Garfield has hardly had an opportunity to capture the Academy's attention, but was also nominated for a Golden Globe in 2011 for The Social Network. He lost to The Fighter's Christian Bale.
Swoon-Worthiness
Maguire: Maguire was quite popular with teen audiences of 2002. Though his popularity with young girls has waned since he first slapped on spandex — instead catering to a more adult crowd with movies like Brothers — Maguire's Spider-Man did cause a sensation when he dangled upside down for a kiss with Mary Jane (played Kirsten Dunst). The kiss also won Maguire the Best Kiss MTV Movie Award that same year. (Who needs ya, Oscar?!) Lord knows he had our vote!
Garfield: Though many college students "Liked" the Brit in The Social Network, Garfield has yet to break through to the Twilight fan base. Some shirtless Amazing Spider-Man scenes should solve that…
Spider-Man Distinction
Maguire: In Maguire's years, Spider-Man's arch-enemy was the Green Goblin. Mary Jane Watson was played by Kirsten Dunst. Peter Parker graduated from high school in the first movie. Oh, and not to mention, he was in three Spider-Man movies all together.
Garfield: In Garfield's version, Spider-Man is fighting The Lizard. Mary Jane does not exist. Instead, Spider-Man's love interest is Gwen Stacy, played by Emma Stone (Garfield's real-life girlfriend). And, Peter Parker remains in high school throughout the whole movie.
Are you sad that a new Spider-Man has replaced our beloved Tobey Maguire — or do you think that Garfield will be able to hold his own on the comics screen?
More:
'Spider-Man' Fandom: Why a Reboot Was The Only Answer