Home
Celebrities
Amy Poehler, Tina Fey, and Lindsay Lohan Rap on the 'Mean Girls'...
Amy Poehler, Tina Fey, and Lindsay Lohan Rap on the 'Mean Girls' Set — VIDEO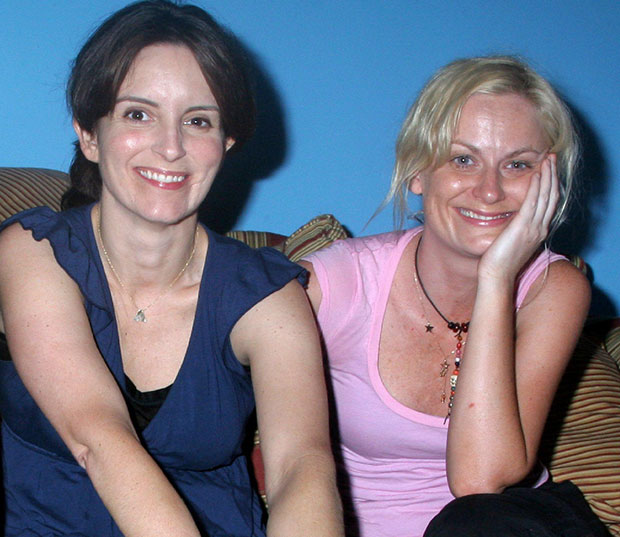 If we ever needed more proof that Amy Poehler and Tina Fey are the best besties in the whole wide world, we have found it. A video, taken from the set of Mean Girls (which Fey wrote and starred in and Poehler had a role in) of Poehler performing the Kevin G Bad-ass MC Talent Show Rap has hit the Internet — and it's awesome. Poehler takes the (imaginary) mic to spin the main verse, while Fey and a pre-trainwreck Lindsay Lohan provide hoodie-wearing moral support. "I wish I could beatbox," Fey bemoans. We wish you could, too.
The video was posted on YouTube with no explanation (not that any is needed, per se), but a commenter suggested to EW that Rajiv Surendra, the actor who played Kevin, may be behind it. At one point, Poehler addresses the camera by saying, "Yo Rajiv," seemingly outing the man behind the camera.
As hilarious as this video is, Lohan's brief cameo makes it a little sad. It shows that at one point in time, Lohan was not only poised for teen stardom and beyond, but she had forged friendships with some of Hollywood's funniest and most empowering women. This could've been your future, Lindsay! Why'd you throw it all away?
Follow Abbey Stone on Twitter @abbeystone
[Photo Credit: A. Miller/WENN]
More:
Louis C.K. and Amy Poehler are in Love: A Conspiracy Theory
Tina Fey Raps! Star Appears on Childish Gambino Track