An Old Person's Guide to the Hip New Boy Band, The Wanted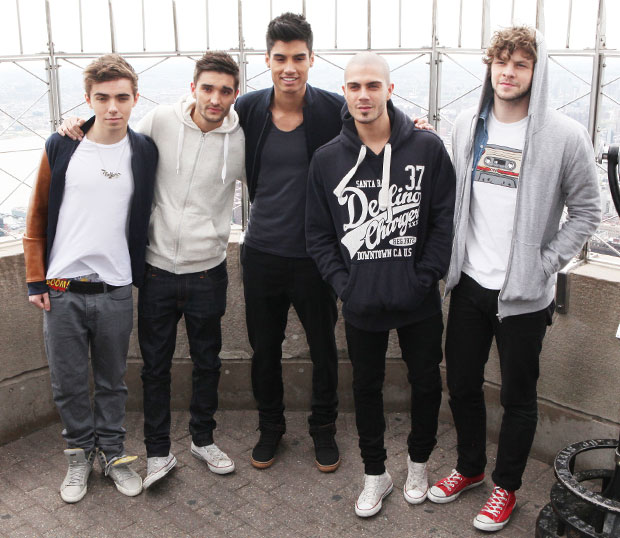 Hello there, old person. If you're reading this, you are probably old. Well, not necessarily old, but at least old enough to not know who The Wanted are. Don't worry, I'm here to help and give you an education so that when you hear about The Wanted on television or you see that one of your friends has been listening to them relentlessly or you see a throng of screaming girls running down the street after five Brits, you know just what the heck is going on. Shall we get started?
Who the heck are The Wanted?
They're the British and Irish boy band that's sweeping the nation and stealing every little girl's heart.
Wait, so this has nothing to do with an Angelina Jolie movie?
No, that's just Wanted, and that is totally different.
Why should I care about them?
Even though they've had a few hit singles in Europe and released two albums across the pond, they just released their first American EP on April 24. You can now buy seven of their songs repacked for an American audience.
You mean like from the record store?
What's a record? You get it from iTunes or wherever else you download music these days.
Are any of the songs good?
It's your standard boy band pop muusic. Their first hit, "All Time Low," is a little too orchestral for my tastes, but it debuted at number one on the UK pop charts. Their second big hit, "Glad You Came," is the sort of infectious summer jam that you can't get out of your head no matter how hard you try. Get into humming it now.
So, just who are these kids anyway?
Like so many other boy bands, they came from a giant casting call to create the ultimate super group of dreamy teenage boys. In the new mode of the boy band: they're a little bit older, a little bit sexier, and a little bit wilder.
Which of the boys should I have a crush on?
Well, I'd go with Max George. He's the most popular (based on number of Twitter followers he has). He looks sort of like Puck from Glee, but without the mohawk. He's 23, from Manchester, and was in another boy band called Avenue that had a modicum of success after getting booted from Britain's X-Factor for not following the rules. He posed naked on the cover of a gay magazine and, well, see for yourself.
Wow, he's hot. What about the other guys?
There is Nathan Sykes, who is 19 and like a little Justin Bieber; Siva Kaneswaran, who is half-Irish, half-Sri Lankan and beautifully swarthy and has an identical twin; Tom Parker, who is like the funny looking outcast; and Jay McGuiness, who looks Irish but was born in the UK and also has a twin brother.
What is up with these guys and twins?
No clue, man.
Are they really going to be the next big thing?
Well, Justin Bieber has 20 million Twitter followers and the boys have about 500K each, so they still have a long way to go. However, MTV is premiering their new video tonight — so for MTV to actually play real music, that's a pretty big deal. Also, the marketing and promotions have been heavy. The Wanted seem to be the keystone of the new "boy band revolution" we're experiencing. That said, they could be the next 'NSYNC or Backstreet Boys. Only time will tell.
Wait, did I see these guys on Saturday Night Live?
No, that's One Direction.
What's the difference?
Those are just different set of British and Irish kids. They were a huge hit on X-Factor. Otherwise what's the difference? Is there a difference between 'NSYNC and The Backstreet Boys? Is there a difference between The Beatles and The Rolling Stones?
Are you going to try to tell me that The Beatles and The Rolling Stones are basically the same band?
Gosh, you really are old, aren't you! OK, that's a bad example, but you hear what I'm saying. Just don't tell any 14 year-olds you can't tell the difference between 1D and The Wanted.
[Image via PNP/WENN.com]
Follow Brian Moylan on Twitter @BrianJMoylan
More:
'Saturday Night Live' Recap: Sofia Vergara and One Direction Make Some Noise
One Direction Turns Down Invitation to White House
'X Factor' Winners On 'Today': The Return of Boy Band Mania?>