Home
Celebrities
Andrew Dice Clay Joins Growing Ranks of Comedian Podcasters With New Weekly...
Andrew Dice Clay Joins Growing Ranks of Comedian Podcasters With New Weekly Show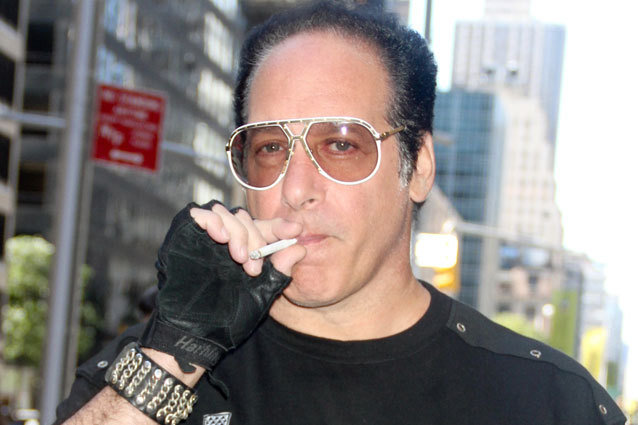 Here's a podcast that will embrace its "adult content" warning with pride. The original bad boy of comedy Andrew Dice Clay is launching a new weekly podcast May 11 with Michael Wheels Parise, called "Rollin With Dice  and Wheels." The one-hour-plus show promises to be "uncensored, filthy, raw, and opinionated," and feature guests who are celebrities, musicians, comedians, writers, and strippers. You can listen to it here.
Dice promises that his legendary rawness will separate him from the rest of the comedy podcast pack, because in recent years comedians have made a major, major move to the Internet. As audiences in general take free web content more and more for granted, comedy fans are much less likely to pay for comedy albums or pay-per-view specials. That's a big opportunity for up-and-coming comics who don't have to worry about trying to part their potential audience from their money, but a challenge to veteran comics as to how they will continue to monetize their content. 
Today it's all about cultivating a personal brand by connecting directly to your audience via social media or free downloadable content like podcasts — about creating awareness and hoping that leads to monetary compensation in other ways, especially through live gigs, which still remain a comic's bread and butter. Dice has no problem with that. This is the guy who once sold out Madison Square Garden two nights in a row. But it's really smart that he's launching a podcast, because, unlike live gigs, which usually attract already-converted fans, a podcast can attract new fans and expand the size of his audience altogether.
Other comedians have realized this as well. Ricky Gervais' podcast holds the Guinness World Record for the most downloaded podcast of all time. Adam Carolla, Marc Maron, Jimmy Pardo, and Chris Hardwick also have very successful podcasts. In fact, you could argue that comedy podcasts now fulfill the function that comedy albums once did, by bringing the jokes directly to the headphones of the listener. Except that now this audio content is the most shareable and portable it's ever been. You could really listen to Andrew Dice Clay wherever you want. Which is why a podcast also makes more sense than having a radio series — you never need to worry about receiving a signal.
Of his new show Dice says, "I never felt there was one podcast that captured everything for me. Rather than wait around for someone else to do it, I said 'F**k It! Let me do it.' So I teamed up with one of the funniest guys I know and think we're going to have a podcast like no one else has."
If anyone can stand out in the growing landscape of comedy podcasts, it'll be Dice.
Will you be listening?
Follow Christian Blauvelt on Twitter @Ctblauvelt
More:
Marc Maron Puts All his Friends and Neuroses on Display in New Show
Chris Hardwick on the Cowardice of Internet Commenters
Ricky Gervais' New 'Office' Episode Is Here and David Brent Still Doesn't Get It
---
From Our Partners:


What Happened to 33 Child Stars (Celebuzz)


40 Most Revealing See-Through Red Carpet Looks (Vh1)