Andy Rooney Passes Away At 92 Years Old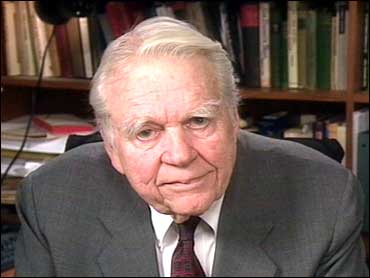 The CBS network confirmed over the weekend that 60 Minutes legend, Andy Rooney, died on Friday in New York City at the age of 92 years old. The veteran newsman — who wrapped his run on the CBS show on October 2nd of this year — was hospitalized late last month after suffering serious complications from a minor surgery, and remained there until his death.
Known for his wry humor and bushy eyebrows, Rooney's weekly segment, A Few Minutes With Andy Rooney, quickly made him a household name and one of the most popular broadcast figures in the country. His homespun commentary mostly consisted of complaining about what he didn't like or understand (like the incomprehensibility of road maps or cereal boxes that contain very little cereal). He even found ways to complain about Christmas, which is not easily done. Yes, Rooney was certainly one of a kind and led a very accomplished career that spanned well over 60 years. He wrote for television since its inception and also worked behind the scenes as a producer. His writing and humorously grumpy personality made us give topics a second look and opened our eyes to issues we normally would have ignored. He didn't request our attention — he demanded it.
During his last scheduled appearance on 60 Minutes, Rooney commented, "I've done a lot of complaining here, but of all the things I've complained about, I can't complain about my life…All this time I've been paid to say what is on my mind on television. You don't get any luckier in life than that." RIP Andy Rooney. America's favorite grumpy man will certainly be missed!
Source: NY Times