Andy Williams, 'Moon River' Singer, Dies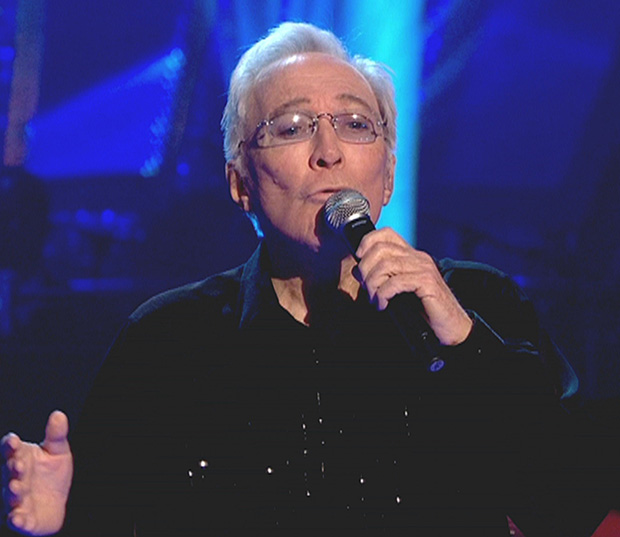 Andy Williams, the singer renowned for his version of "Moon River," has passed away at the age of 84, People reports. A performer since the ripe age of 11, when he and his brothers formed a quartet, Williams stayed a force in the industry up until his death Tuesday in Branson, Mo., following a battle with bladder cancer.
After spending years performing in nightclubs with his brothers, Williams first gained recognition as a solo act while appearing on late night talk show Tonight Starring Steve Allen, a regular stint that eventually led to a recording contract and a hit cover single, "Canadian Sunset." Williams had hit his sweet spot with cover tunes — following the success of "Canadian Sunset," the crooner released a bevy of other cover singles that hit with fans, including his Billboard-topping version of Charlie Gracie's "Butterfly."
But Williams won most recognition for his rendition of Henry Mancini and Johnny Mercer's "Moon River," a song first made famous by its appearance in Breakfast at Tiffany's. The singer performed his version at the 1962 Academy Awards — where the song won the Oscar — and it has been associated with Williams ever since, despite the fact that the song was never released as one of Williams' singles.
Soon thereafter, Williams found himself flirting with the music business after gaining ownership of recordings by Lenny Welch, The Chordettes, and other acts, a move that led to his formation of Barnaby Records. From there, the singer became a force in the industry, earning 17 gold albums (and three platinum albums) and launching a career on the small screen, where he hosted NBC's The Andy Williams Show from 1962 to 1971. The singer felt comfortable on television, hosting Christmas specials until 1974 and presiding over seven Grammy Award telecasts. And Williams was rewarded for his television work — the singer won three Emmys for The Andy Williams Show.
Following his massive success, it's no wonder Williams was encouraged to open a theater in the entertainment capital of the world, Branson, Mo. Named for his famous song, The Moon River Theater opened in 1992, and continues to thrive today. (Williams himself performed at the theater six nights a week, until health struggles forced him to cut back.) And, hopefully, will continue to be an attraction even following the singer's passing — after all, for musicians to play in Williams' house? Why, that would send them, well, over the moon.
[Image Credit: WENN]