You Cannot Hate Angelina Jolie For Her Double Mastectomy
Angelina Jolie took a brave step as a mother this month, as she revealed in her New York Times editorial. With the full weight of her mother's untimely death at the age of 56 due to cancer, Jolie took a preventative measure for her health, undergoing a double mastectomy that reduced her chances of breast cancer from 87 percent to five percent. Many fans, journalists, and any other humans with the ability and desire to praise others (including Mr. Jolie, Brad Pitt) have touted Jolie's decision and subsequent openness as heroic. And that, dear people of the Internet, is the only appropriate response at a time like this. 
The problem is that there are many people who don't seem to understand that. Jolie has been a polarizing figure in pop culture for years. She endured the supporters of Team Jennifer Aniston when Jolie's affair with Pitt was publicized as the cause for Pitt's divorce from America's favorite girl next door. People love to groan at her children, adopted from destitute countries as an elitist move. When she makes a bad movie, we don't hear the end of it… ever. (Just say the name The Tourist to any movie lover and see what happens.) But when it comes to something this sensitive, comments like "Sorry, but I still can't get over the fact that she's a husband stealer" or "Jolie's not been in the news recently so she must be gagging for some media coverage" or calling the surgery "something only rich people can afford."
This is not okay. Not only are these people missing the point, they're lacking in one essential element: humanity. As Jolie is baring her soul, something she's not wont to do unless it's for a good reason, and opening her most personal struggle to the world for a reason: "I hope it helps to know you have options." And yes, Jolie's procedures at the Pink Lotus Breast Center are likely out of most readers' price ranges, but that doesn't diminish what she's saying. Her goal, in being open and using her fame as a megaphone on the issue, as she states it, is to raise awareness and perhaps even expand women's access to healing and preventative measures.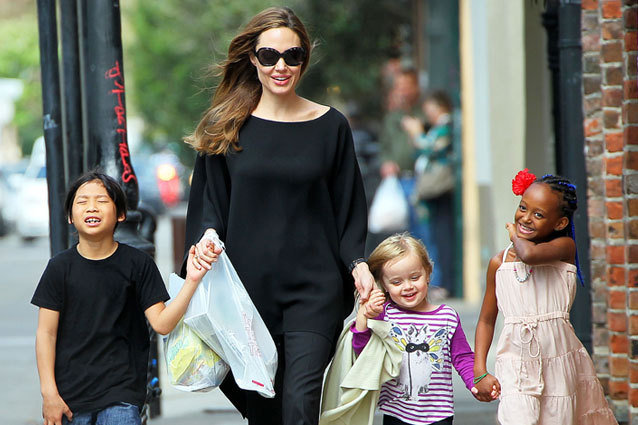 "It has got to be a priority to ensure more women can access gene testing and live-saving preventative treatment, whatever their means and background, whereever they live," she writes. It may be a lofty, potentially unattainable goal, but it's one that's coming from her heart. It's one meant to counteract the "deep sense of powerlessness" she says cancer can create in its victims. 
And while this announcement has certainly made her a trending topic, it's not as if she threw out some Kardashianesque scoop, hoping to drum up ratings for her new reality show. She's using the voracious appetite of the Internet and the rest of media to send her message of health far and wide; she's using the untameable monster for good. How is that something to harp on? Put simply: it's not.
You can hate Angie for stealing Brad. You can hate her for being too beautiful or elitist. You can hate the amount of attention she gets for simply taking her kids to a theme park. You can even hate her for the way she cocks her eyebrow like seduction is second nature or the way her voice carries on like that of a queen in a Disney movie. You cannot, however, hate her for baring her soul in a genuine, articulate, and candid manner as a measure of encouraging women's agency over their own health. 
Jolie may be one of the biggest celebrities in the world, but she still has a heart. Those who question that fact, however, are the ones I'd be worried about.
Follow Kelsea on Twitter @KelseaStahler
More:
Angelina Jolie Opens Up About Her Double Mastectomy
Set Pictures of Angelina Jolie in 'Maleficent'
Angelina Jolie: Then and Now 
---
From Our Partners:


What Happened to 33 Child Stars (Celebuzz)


40 Most Revealing See-Through Red Carpet Looks (Vh1)