Angelina Jolie Has No Clue How to Dress for the Beach — PIC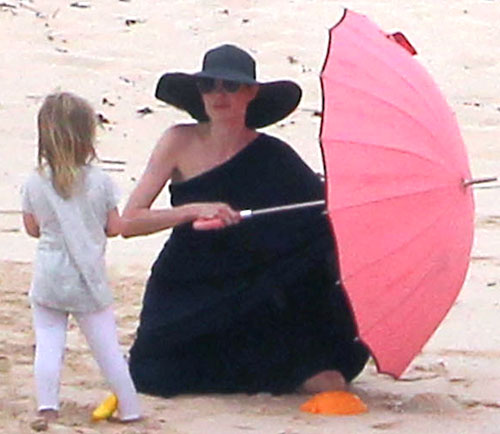 Angelina Jolie is excellent at many things: humanitarian work, adoptions, marrying actors, exposing her right leg for no necessary reason. One of the things she has always been lousy at is dressing for the beach. Did no one take little Angelina to the shore and put her in a tiny yellow polka dot bikini and buy her some salt water taffy? Is the part of her brain that covers picking out bikinis and cover-ups completely missing?
Check out her latest get-up while in the Galapagos Islands with Brad and the kids. Is she wearing a funeral shroud? Did she forget something to wear and just cover herself in a black beach towel? She has a gorgeous body and she's wearing something that makes her look like a jellyfish that has rotted black and been left out in the sun too long. Is this her oil spill costume from last Halloween? The pink parasol is helping to lend a little bit of whimsy, but with it she looks more like a goth Mary Poppins than a normal person wearing some resort couture. Will someone please help her? At least send her a bright pail and shovel to lighten the mood a bit.
[Image via MiamiPIXX/BRJ/FameFlynet Pictures]
Follow Brian Moylan on Twitter @BrianJMoylan
More:
Brad Pitt & Angelina Jolie Engaged
Is Angelina Jolie Ready To Quit Acting?
Elle Fanning as Angelina Jolie's Disney Princess in 'Maleficent'?