Angelina Jolie to "Give Up Acting," Collective Panic Attack Hits All Journalists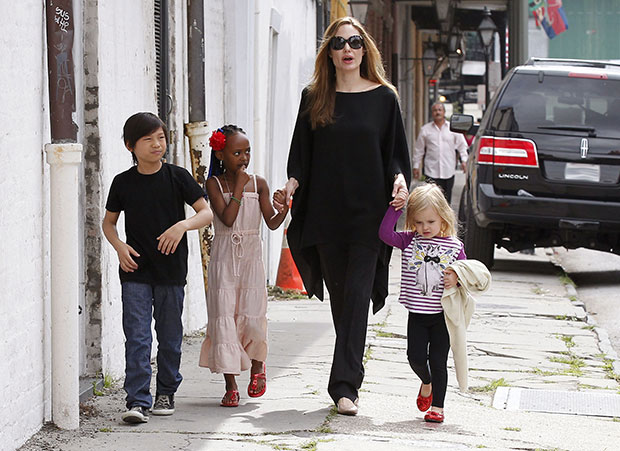 Hollywood is a fickle business. It casts its stars out as thoughtlessly as it plucks them from oblivion, dashing the hopes of many an impassioned performer when he or she loses the luster they were lucky enough to manage in the first place. So it's all the more shocking when someone, a ravishing success no less, opts to take leave of this exclusive land voluntarily… but when you think about it, it's probably a darn good idea. Angelina Jolie, queen of all known universes, has vocalized her intentions to quit the business sometime in the not so distant future.
"I think I'm going to have to give up the acting as the kids hit the teenage years," Jolie told Britain's Channel 4 News (courtesy of E!). "Too much to manage at home."
The heir to her father's Hollywood legacy who forged her own reputation based on her onscreen prowess and offscreen humanitarian work, Jolie has sustained a prodigious career for the past two decades. Recently, Jolie made her directorial debut with the politically charged film In the Land of Blood and Honey.
Jolie tells Britain's Channel 4 News, "I have enjoyed being an actress. I am so grateful to the job and I have had great experiences and I have even be able to tell stories and be a part of stories that mattered and I have done things for fun." She continues, "I will do some films and I am so fortunate to have the job, it's a really lucky profession to be a part of and I enjoy it. But if it went away tomorrow I would be very happy to be home with the children. I wake up in the morning as a mum and I turn on the news like everybody else and I see what's happening and I want to be part of the world in a positive way."
In November of 2011, we heard Jolie's husband Brad Pitt proclaim that he had only "three years" left to go in the acting game before calling it quits. If the couple keeps its word, we might be seeing a whole lot of reporters resort to the old door-to-door salesman trick just to get a scoop on what the homeward bound family is up to. What, you think we'll stop caring about them just because they stop doing stuff? This is Angelina Jolie and Brad Pitt, people. If they get new siding it will be front page material!
[Photo Credit: FameFlynet]
More:
What Kate Middleton Won't Name Her Baby: A Psychic Predicts 2013
Dear Bravo, It's Time to Make LeAnn Rimes a Real Housewife
Kim Kardashian in Bahrain and Nine Other Celebs Who Wore Out Their Welcomes

Kate Middleton Pregnant: Could Her Royal Baby Be Crowned Queen Diana? (EXCLUSIVE GUEST BLOG)

Taylor Swift, Harry Styles Sing Karaoke, Hold Hands in New York City (PHOTOS)