Home
Celebrities
Stop Yelling! Let's Take a Calm Look at the Angriest Men in...
Stop Yelling! Let's Take a Calm Look at the Angriest Men in Hollywood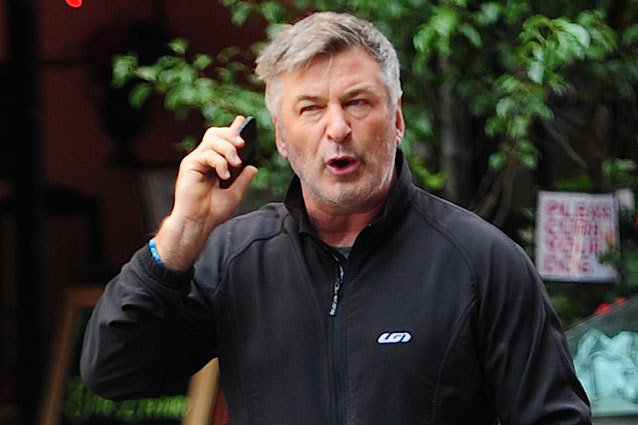 Some celebrities just can't handle it. Whether it's the paparazzi, personal assistants, or an entire religious group, when a celebrity targets you with their wrath, it's never pretty. And this particular group have had their fair share of temper tantrums and rants. Some have survived and moved past the error of their ways, some committed atrocities so severe their careers have never survived, and some just can't get out of the habit of being publicly angry. Here are the five angriest celebrities in Hollywood.
Alec Baldwin
Mr. Baldwin, tell us how you really feel about the paparazzi. And the New York Daily News. And the media in general. Just kidding. We know. Some of his outbursts include assaulting two NY Daily News photographers for taking pictures of him and his wife, Hilaria Thomas, hurling homophobic slurs at a Daily Mail reporter on Twitter after the site reported that his wife had been tweeting during James Gandolfini's funeral, grabbing a female New York Post reporter and telling her "I hope you die," and his infamous voicemail to his then-11-year-old daughter, Ireland, in which he called her a "thoughtless little pig." Whew. We suddenly feel stressed.
Christian Bale
British actor Christian Bale is usually in good spirits, but when he loses his cool, he really loses it. During filming of his 2009 movie Terminator Salvation, Bale flipped out during a scene when the director of photography walked through the set one too many times. The unsuspecting fellow was checking the lights when Bale laid into him for four f-word-strewn minutes, during which he said, "I'm gonna kick your f*****g ass." Although this was his most infamous incident, Bale was also accused by his mother and sister for allegedly assaulting them in 2008, and he even scuffled with guards in China for denying him entrance when he visited Chinese civil rights activist Chen Guangcheng. At least his intentions were good.
Bill O'Reilly
Where to begin with this guy? Fox News host Bill O'Reilly just loves to shout at the camera and at other people on air. More than one video of him blowing his gasket have gone viral. The most famous one is from his Inside Edition anchoring days when he refused to read whatever was pre-written for him and famously yelled, "F**k it! We'll do it live!" and then seamlessly went into his closing statements. In 2010, O'Reilly's comments about Muslims and 9/11 angered The View hosts Whoopi Goldberg and Joy Behar so much that they walked off the set. This March, a debate between O'Reilly and liberal political commentator Alan Colmes escalated into a shouting match with the host calling his guest a liar repeatedly. Sigh. The list just keeps going, but I'm sure this gives you more than enough of an idea.
Mel Gibson
Anti-Semitic remarks, racial slurs, homophobic quotes, and domestic violence. Mel Gibson has done it all. In 2006, Gibson was arrested on suspicion of drunk driving and went on an anti-Semtitic rant at the arresting officer, yelling, "F*****g Jews. . . . The Jews are responsible for all the wars in the world." There was already speculation over Gibson's anti-Semitic views after his controversial film The Passion of the Christ's negative depiction of Jews, and this incident only confirmed what all of Hollywood was already suspecting. Then Radar Online obtained tapes of Gibson arguing with his estranged wife Oksana Grigorieva and the world was witness to just how vile Gibson can be. The actor called Grigorieva a b***h, c**t, whore, and gold digger, and threatened to burn the house down. There were also racial slurs involved.
Russell Crowe
Russell Crowe is yet another middle-aged Hollywood actor who could use a little anger management. After a hotel concierge at the Mercer Hotel in New York City was "unhelpful" and gave him "attitude" when Crowe asked to make an international call, the New Zealander threw the phone at his face. He was arraigned on charges of second-degree assault and fourth-degree criminal possession of a weapon. In addition to the infamous phone incident, Crowe was also in an angry confrontation with a TV exec after part of his BAFTA speech was cut short, and he's also been known to get abusive with photographers and journalists. Maybe he and Baldwin should hang out, but only if they go to guided meditation.
More:
5 Oscar Nominees Who Sold Out
Leonardo DiCaprio Loves to Citi Bike
Tom Hanks Was in That? Really?
---
From Our Partners:


40 Most Revealing See-Through Red Carpet Looks (Vh1)


15 Stars Share Secrets of their Sex Lives (Celebuzz)