Angry Alec Baldwin Strikes Again, Slams a Pap in the Face
Say what you will about Alec Baldwin, he's never in short supply of newsworthy behavior. The latest Baldwin outburst involved New York Daily News photographer Marcus Santos, who snapped a picture of the 30 Rock star exiting New York City's Marriage License Bureau on Tuesday morning — presumably, Baldwin, 54, has been obtaining a marriage license to wed his fiancée, yoga instructor Hilaria Thomas. Upon being photographed, Daily News reports that Baldwin attacked Santos punching him in the face.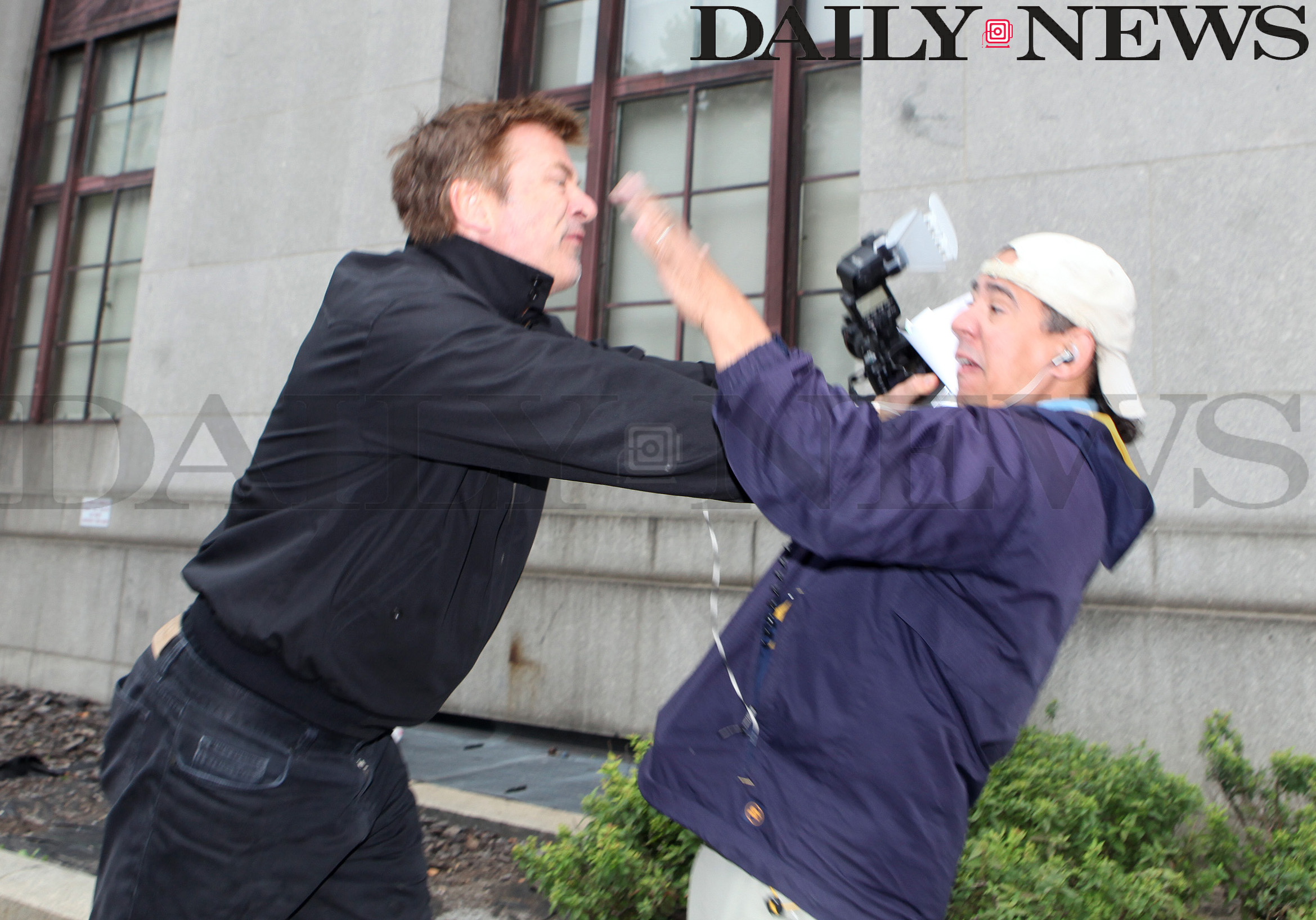 Santos, 42, tells Daily News, "He comes after me, starts shoving and punching me — one time, right in the chin. And then he started shoving me, and pushing me. Then he goes the other way." Santos adds that photographer Jefferson Siegel was also on the scene.
In light of the attention his actions have received, Baldwin has taken to Twitter with a remark referencing the Trayvon Martin shooting:
I suppose if the offending paparazzi was wearing a hoodie and I shot him, it would all blow over…
— AB (@alecbaldwin) June 19, 2012
Baldwin's rep Matthew Hiltzik tells Hollywood.com, "As Alec and his fiancée were leaving City Hall, a 'civilian' walking in front of Alec positioned himself to obstruct the view of a photographer aggressively trying to shoot the couple. The photographer was clearly frustrated, pushed past the bystander and assaulted Alec with his camera. There were no punches thrown, and any subsequent physical contact was simply Alec protecting himself."
This is hardly the first public confrontation in which Baldwin has been involved. It's likely that you haven't yet forgotten about Baldwin's face-off with American Airlines, when the actor refused to heed the flight staff's wishes for him to stop playing Words with Friends and turn off his phone. The NBC star also recently vocalized some negative feelings about his network and its daytime staple The Today Show.
[Photo Credit: The New York Daily News]
[Reporting by Lindsey DiMattina]
More:
Alec Baldwin Is Engaged to a 28-Year-Old Yoga Teacher