Home
Celebrities
Ann Curry's $2.9 Million Brownstone Occupied by Homeless Man
Ann Curry's $2.9 Million Brownstone Occupied by Homeless Man
Turns out the Today show co-host, Ann Curry, has had an uninvited guest staying at her Brownstone in New York City for the past year. Reports are claiming a homeless man has been squatting in Curry's unoccupied Upper West Side place that is valued at $2.9 million. The squatter refused to give his name and age to police, but defended his actions by stating, "I'm not a drug addict; I just don't have a place to sleep." The man also added, "Ann Curry means crap to me…the reason I lived there was because they chased me out of Central Park." When they kick you out of the park is when you know you're in trouble.
Police found the guy sleeping in the vestibule and not completely inside the actual building, so they kindly took him to a homeless shelter instead of jail. The man was spotted again on Sunday near the building, but did not go inside. Apparently Curry and her husband began working on renovations to the place last year, but abandoned the project due to receiving numerous building-code violations and the house has been unoccupied ever since. The homeless squatter would be more than happy to put the place to use and watch over it for the married couple, saying "I'll go back if someone says, 'Here's the key. Maintain the building." Who could pass up an offer like that?
An NBC spokesperson commented that, "Ann Curry is currently traveling to Africa to cover the humanitarian crisis and could not be reached for comment." Well a little heads up Ann — you're going to have a pest control problem when you get back.
Click the image below for more photos of Ann Curry!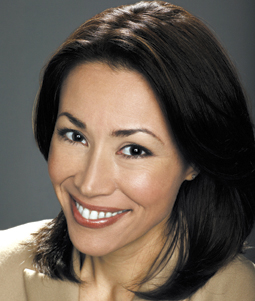 Source: THR