Ann Romney Makes First Late Night Talk Show Appearance: How'd She Do?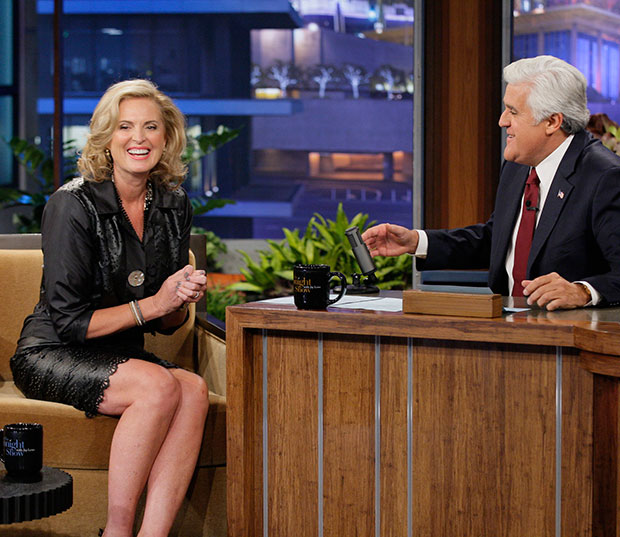 There are three main essentials on the campaign trail for any candidate or candidate's spouse: waving, posing for pictures with babies, and visiting a late night talk show. With just a few weeks to go until the election, Ann Romney has now officially accomplished all three after paying a visit The Tonight Show with Jay Leno. The wife of GOP candidate Mitt Romney technically made her first-ever late night appearance on Monday. Kate McKinnon's hilarious take on a non-stop waving, apple cider-guzzling, "freaking awesome"-haired Ann Romney, on the other hand, already made her Saturday Night Live debut over the weekend to clear up those "Stop it… this is hard" comments to fellow Republicans that she made during a recent radio interview. 
So when it was time for the real Romney to clarify the statement she made to
Jay Leno
, she didn't sound all that different from, well, the fake Romney. Both emphasized that she'll stay by her man's side, the campaign trail for a Republican
is
hard ("It's very frustrating thing because you try so hard to get your message out"), and that she stands by what she said. ("I stepped out of the interview and I was like, 'Oh dear, was that a little strong?'" she admitted to Leno, then adding that, "everyone I've seen has given me high fives.") 
While Romney did everything she was supposed to do during a talk show appearance, by giving choice campaign trail sound bites ("We care about the 100 percent", "I love the fact that we have the first African-American president. That means to me that we're leaving prejudices behind"), clarifying Mitt's confusing airplane window statement after her in-flight scare ("It's his way of making light of how worried he is about me"), and cracking casual jokes ("You know, Jay, he's gotten to be a better dancer") she still seemed to fall into the Romney trap of feeling a bit disconnected and less media savvy than the Obamas. (Though, apparently not to one Leno audience member who appeared to shout, "We love you, Ann!" during her appearance). 
To be fair, it was her first go-round on the late night talk show circuit, so maybe she'll settle in with a few more. Just remember Ann, when it doubt, just say
Rick Perry
's name three times. Or, at the very least, challenge
Jimmy Fallon
to a potato sack race. Watch actual Ann Romney's visit to
The Tonight Show
and McKinnon's Romney's debut on
SNL
below and decide which one had the better late night appearance.
[Photo credit: Paul Drinkwater/NBC] 
More: