Home
Celebrities
That Anna Nicole Smith Opera Is Coming Stateside in Brooklyn
That Anna Nicole Smith Opera Is Coming Stateside in Brooklyn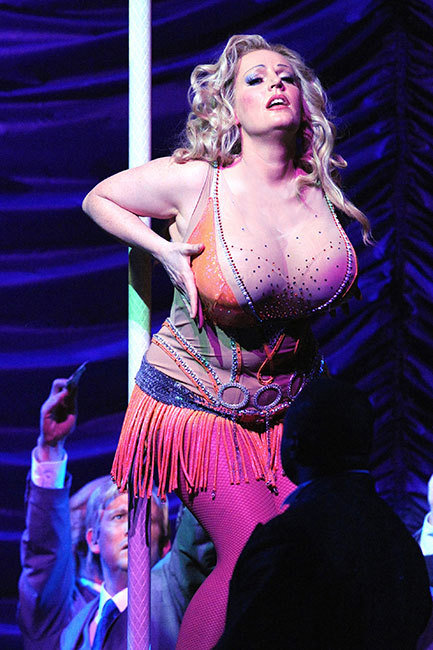 They said it would never work. They were afraid something as sophisticated and time-tested as opera couldn't withstand the force of former reality show personality and pop culture phenomenon Anna Nicole Smith. They were wrong. So wrong, in fact, that they (whoever they are) can go ahead and eat their words: Anna Nicole, Mark-Anthony Turnage's opera about the fascinating, late celeb is coming to Brooklyn in September, according to the New York Times. 
RELATED: Elton John's Biopic Musical is Coming
Smith, who died in 2007 of a prescription drug overdose, lived a life that entertained celeb culture fans for years. The former Playmate and model married 89-year-old oil tycoon J. Howard Marshall in 1994, sending fans of all things unbelievable into a frenzy. She later nabbed her own reality show, which was promoted with the most honest tagline ever: "It's not supposed to be funny. It just is."
How will all of this nonsense fit into this opera? Will it be funny… intentionally? Or will it be a sensitive portrait of a young, former waitress from Texas who somehow morphed into one of America's most controversial stars by the time she was 27 years old? Perhaps it's a bit of both? That's what audiences at the show's first run in London's Royal Opera House thought of it, anyway.
RELATED: 'Aladdin' Musical on Track for 2014
The opera will open the Brooklyn Academy of Music's New Wave Festival this fall, but it stands to be determined whether or not American audiences will warm to the Jerry Spring Musical composer's take on the former tabloid queen. 
Follow Kelsea on Twitter @KelseaStahler
[Photo Credit: Alastair Muir/Rex/Rex USA]
---
You Might Also Like:


15 Oscar-Winning Nude Scenes


Young Jack Black Is Totally Unrecognizable