Anne Hathaway's 'Les Mis' 'Do Voted Most Influential Haircut Ever — But Just How Influential Was It?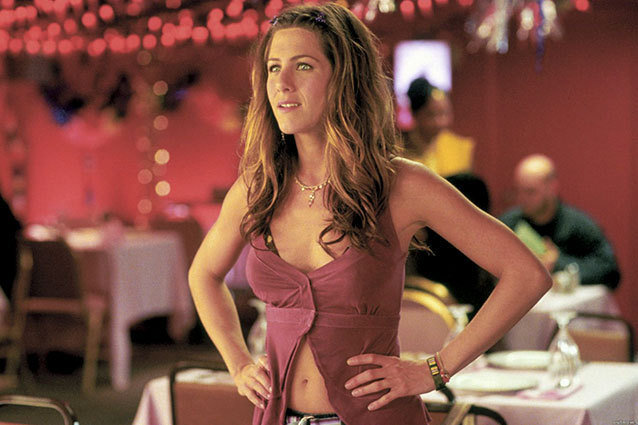 Subjectivity aside, there are a few movies that maintain supremecy as the most influential of humankind's cinematic constructions. The art of film, the Hollywood business, and perhaps the vast sum of our planet's societies are forever changed by the triumphant elements of great titles, such as Citizen Kane and its foreboding cinematography, The Godfather and its superhuman performances, Along Came Polly and its sort of curly-on-the-bottom hairstyles.
Scoff all you want at the ranking of Ben Stiller's 2004 "comedy" (you have to muster at least one laugh before you can earn the branding without undermining quotation marks) among the likes of the business' most persuasive pictures, but Jennifer Aniston's flowing ringlets have earned her a silver medal in the Hairdressing Council of Great Britain's declaration of the most influential movie 'dos of all time. Of all time.
That means, Aniston's ferret-wielding locks overshadow the likes of Johnny Depp's fraying bulrushes in Edward Scissorhands, of Little Orphan Annie's red 'fro, of Princess freakin' Leia. The only follicular sculpting that did beat out Aniston's Along Came Polly 'do: Anne Hathaway's crew cut in Les Misérables, as reported by E!. The pair even topped Audrey Hepburn's game-hanging Charade updo, which earned third place.
Total hair-esy! Completely dis-tressing! They'd have to be fila-mental to make that ruling! In the generations of widescreen coiffures, spanning from Travis Bickle to Jack Dawson, we've surely seen a bob or a perm of some kind with more a societal impact than Hathaway in Les Mis, or certainly Aniston in Along Came Polly.
But maybe we're simply defining "influence" incorrectly. Maybe it's not how many immitators a 'do inspired, but something far greater by which the Hairdressing Council of Great Britain is setting its standards. Perhaps Hathaway's Les Mis frizz and Aniston's Polly topper changed the world in far greater ways…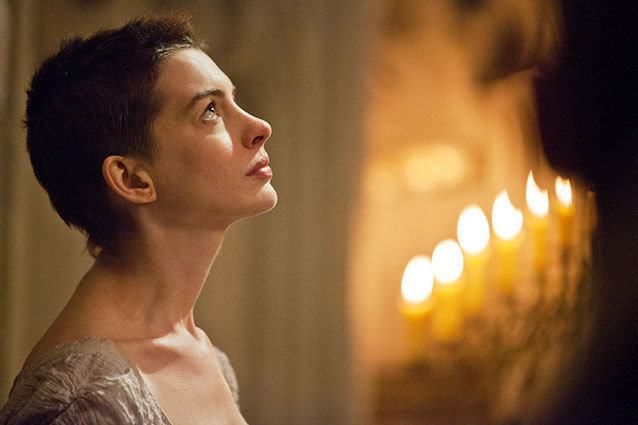 Let's look at our dear planet on Dec. 26, 2012 — one day after the theatrical release of Hathaway's  Les Miserables. In the wake of Fantine's Oscar-winning performance, the globe saw Egypt undertake a new Islamist-backed consitution; it saw Russia's parliament ban American citizens from adopting emigrating Russian children; it saw Japanese Prime Minister Shinzo Abe take office, select his new league of cabinet members, and oversee the decimation of the Yen's value to a new low; it saw the appointment of Lt. Gov. Brian Schatz into the seat of deceased U.S. Senator Daniel Inouye; it saw the opening of the world's longest high-speed rail route, connecting Beijing to Guangzhou.
Now, we're not saying that all of these things happened solely because of Hathaway's haircut, but we can't be certain that they would have happened otherwise, now can we?
And let's look at the big blue marble on Jan. 17, 2004 — one day after Along Came Polly hit theaters. Following the John Hamburg-directed 90-minute jab-in-the-Adam's Apple, we saw NASA cancel its plans for the Hubble Telescope service mission; we saw the Greek Prime Minister George Papandreou declare his intentions to sign a mutual agreement with Turkey to decrease military expenses; we saw Cyprian biologist Dr. Panos Zavos transplant a two-week-old embryo into a human woman's uterus. 
Now, we're not saying that all of these things happened solely because of Aniston's haircut, but…
… yeah, actually, we are. They did. You can thank Rachel for the delapidation of our country's space program.
There you have it: definitive evidence that Hathaway and Aniston, and their respective vibrissa, changed the world forever, putting to shame the cinnamon buns of Carrie Fisher and the various cowlicks of an early '90s Jim Carrey. So, you can lay your complaints to rest, investing trust in the solid and steadfast assurance that these woman are indeed those most deserving of the title.
It doesn't matter that Universal Pictures, the studio behind Les Mis, Along Came Polly, and Charade alike, was involved in the Hairdressing Council of Great Britain's selection process… I mean, surely the company wouldn't stoop to favor their own projects in such a venerated title as Most Influential Hair. No, ye cynics. We live in a world filled with embryo transplants, high-speed Chinese railways, and trust. All thanks to a French hooker's buzz cut, and, to a slightly lesser extent, a flighty Friends vet's arching split ends.
Follow Michael Arbeiter on Twitter @MichaelArbeiter
More:
15 Unrealistic Movie Hairdos
The Year in Hair: 2012's Most Hair-Raising Moments
7 Things Resembling Bradley Cooper's Bad Perm
---
From Our Partners:


40 Most Revealing See-Through Red Carpet Looks (Vh1)


33 Child Stars: Where Are They Now? (Celebuzz)