ANTM Cycle 20: Boys in the Snood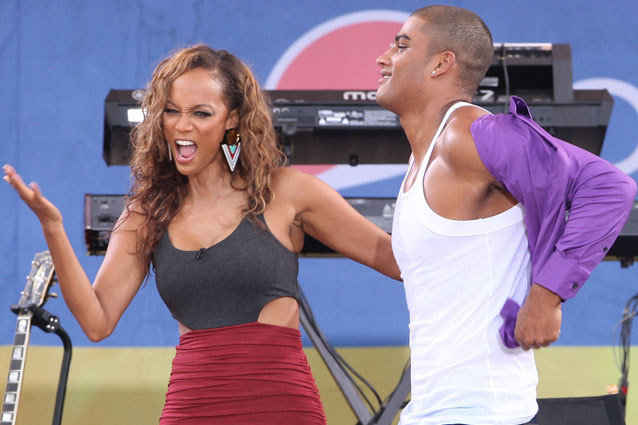 PNP/WENN
Tyra and co. are currently deep into season – sorry – "cycle" 20 of America's Next Top Model. We've had plus-size, short, and – gasp! – college-educated cycles, but now Tyra's braving the last taboo/gimmick: BOYS! There's still time for fans of the franchise to get their teeth into beefy episodes like 'The Guy Who Gets A Weave' and 'The Girl Who Is Scared Of Clowns' and follow the boys and girls as they quest to impress the narcissistic judges. But even if shirtless studs are the only reason you're getting into ANTM for the rest of the cycle, you'd be wise to tool up on your Tyra-isms. Here's the cheat sheet.
"Booch"
The 'boy tooch' – and arguably the skill that will make or break the models this season. As Banks tweeted, "In the battle between the #Tooch & the #Booch… only 1 will prevail. Who will win? Only time can tell…"
Confused? Not to fear. Tyra breaks the fine art of the "Booty Tooch", "Smoochy Tooch", "Gucci Tooch" — and the reviled "Hoochy Tooch" — down here (while wearing a leotard).
"Smize"
Smile – with your eyez. A Top Model mainstay.
"Flawsome"
Your flaws make you awesome…but not too many, ok?
"Fierce"
Heard this one somewhere before, right? Nope: 'fierce' is another one of the "crazy, insane words we thought up over the course of our 19 cycles."
"Fiercely Real"
Size 6.
The "no-neck monster"
Maggie in Tennessee Williams' Cat in a Hot Tin Roof describes children as "the no-neck monsters". Harvard-educated Tyra (and don't you forget it) uses it to describe models who suck at "giving neck" in photographs.
More:
Craziest Top Model Moments
Tyra Banks Claims Harvard is 'hard on purpose.'
'ANTM': Bring on the Shirtless Boys.'
---
From Our Partners:


40 Most Revealing See-Through Red Carpet Looks (Vh1)


15 Stars Share Secrets of their Sex Lives (Celebuzz)