Arden Cho's Best Song Covers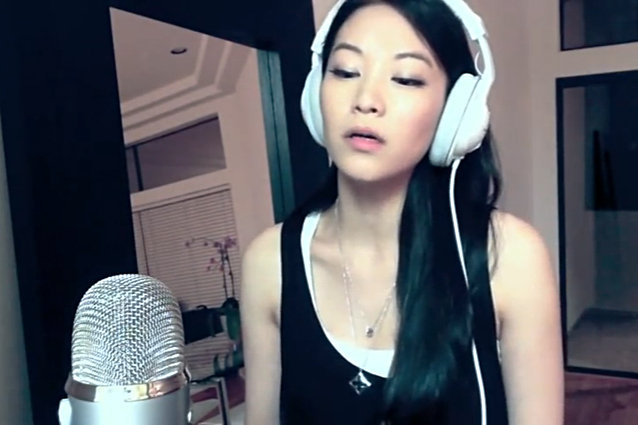 ardenBcho/YouTube
You might recognize Arden Cho from her Teen Wolf role, for which she has garnered both critical and public attention (especially in the recent episode, "The Fox and the Wolf," a story in which she played both herself and a younger version of her mother, Tamlyn Tomita's character). Cho is also a Miss Korea Pageant winner, and has a large following on YouTube, where she regularly posts a mix of original songs and covers, as well as vlogs. Her covers all have her unique spin on them, so we've compiled a list of some of her best!
5. "Try"
Cho's duets are quite nice: I particularly like this version of Pink's "Try." Here, she sings with Gerald Ko – and now that they've done "Try" they have to do "Just Give Me a Reason," right?
4. "Stay"
Even as she does a lot of fun duets ("Try" is just the tip of the iceberg – Jason Mraz' "Lucky" and "At Last I See The Light" from Tangled are quite nice, too), she also performs duets as solos. At least, that's what she does with Rihanna's "Stay!"
3. "I Knew You Were Trouble"
Taylor Swift fans are sure to get a kick out of her poppy take on "I Knew You Were Trouble" cover (performed with Jason Min and Koo Chung on dueling guitars – one electric, one acoustic). It's certainly a nice option for those who are less than pleased with the dubstep drops in the original!
2." Wide Awake" x "Somebody That I Used To Know"
Cho also dabbles in mash-ups – her "Wide Awake" x "Somebody That I Used To Know" mash-up is quite fun.
1. "Radioactive"
My personal favorite might just be her cover of Imagine Dragons' "Radioactive." Her indie-songstress pipes are somehow the perfect match for this more traditionally rock 'n' roll ballad.
What are your favorite of Cho's covers? Let us know in the comments!