Home
Celebrities
Are Robert Pattinson and Kristen Stewart Getting Back Together?
Are Robert Pattinson and Kristen Stewart Getting Back Together?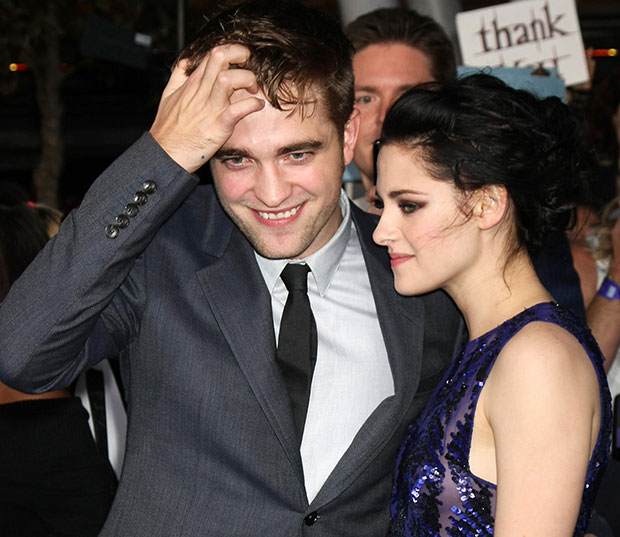 Have you heard about Hugo and Kim? Sorry, I mean Robert and Kristen. After their dramatic semi-breakup earlier this summer (caused by Kristen Stewart's affair with her Snow White and the Huntsman director Rupert Sanders and subsequent tearing out and stomping on of Robert Pattinson's still-beating heart), news is now circulating that the Twilight costars had a secret rendezvous the weekend of Sept. 15.
People reports that Pattinson and Stewart met up in Los Angeles over the weekend and are now on the brink of a reunion. We can draw this conclusion because a separated couple meeting up can only mean one thing: a night of passionate lovemaking followed by a surprise engagement and quickie marriage that will ensure the the two twenty-somethings will be together forever. Sorry, I can't even type that with a straight face. And now that I see it all written down it seems even more unlikely than it sounded in my brain. You know what more likely happened? Any of the boring things that normal broken-up couples do. Such as:
Get their stuff back: Every breakup includes the "exchanging of the stuff." After a period of cathartically burning everything within eyesight that belongs to your ex, you then spend the next few hours eating Ben & Jerry's and throwing everything that technically belongs to him or her into a cardboard box. We know Stewart's been hanging onto Pattinson's t-shirts and he's surely clinging to some of her old records (because Kristen only listens to vinyl). Maybe the two decided it was time to finally let it all go.
Settle their expenses: A couple's separation becomes infinitely more complicated when cohabitation is involved. Pattinson is reportedly selling the house that he and Stewart lived in together. But before he can make a clean break from his property, he's got to pay all his utility bills and get everything in order. Pattinson could have arranged a meeting so Stewart could write him a check for cable.
Work out a friend custody arrangement: When you share a group of friends with your ex, finding ways to hang out can be more complicated than a Rubik's Cube. Maybe Pattinson and Stewart needed to hash out a mutually agreeable schedule for when who gets to see whom. Stewart has primary custody of Taylor Lautner, but Pattinson can visit him every other weekend and holidays. 
Get the awkward encounter out of the way, in private: Much like high school sweethearts who end their romance over the summer, Pattinson and Stewart have a long road of forced company ahead of them (what with November's release of The Twilight Saga: Breaking Dawn — Part 2). It wouldn't be at all surprising if the two decided to meet up in private so that their first encounter is not in front of dozens of snapping cameras.
Or maybe my cynicism is once again getting in the way of true love. Maybe this illicit meeting really does signal a relationship resurgence for good ol' Robsten. Maybe there is good left in the world after all. 
Follow Abbey Stone on Twitter @abbeystone
[Photo Credit: WENN]
More:
Kristen Stewart on Impending Rob Pattinson Reunion: 'We're Totally Fine'
Kristen Stewart and the New World of Internet Hatred
Should Robert Pattinson Open Up About the Kristen Cheating Scandal?
From Our Partners:

Jennifer Aniston, Angelina Jolie, Jessica Alba: Film's 30 Hottest Lingerie Scenes From the Past 30 Years — GALLERY
(Celebuzz)

(Celebuzz)