Are These Quotes from a Presidential Debate or 'Real Housewives' Reunion?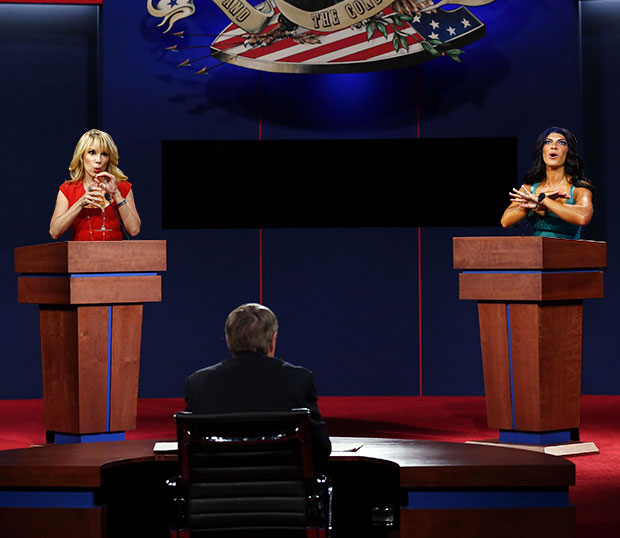 There was fighting, cross talking, name calling, finger pointing, questions from the audience, a moderator whose name rhymed with Randy, and accusations of bankruptcy. No, I am not talking about every Real Housewives reunion special ever recorded, I'm talking about last night's presidential debate.
Yes, Barack H. Obama and Mittens Romney sounded just like Teresa Giudice and Melissa Gorga as they fought about the germane issues of the day. Thankfully Barack never accused Mitt of being a stripper and Mitt didn't accuse Barack of cheating on his spouse. Other than that, you can hardly tell the difference between the two. To prove my hypothesis, here are a bunch of quotes from both Real Housewives reunions and the debate last night. I've taken out the names when used as to not give away the answers. See if you can tell the difference and then check the answer at the bottom.
1. And likewise, you've got more and more debt on your back. So more debt and less jobs. I'm going to change that.
2. That is like getting financial advice from someone who's bankrupt, which I've never been.
3. No, I didn't say that. I never said that.
4. What [blank] said just isn't true.
5. I'd rather sit down with my wife, as I've done for 30 years, and talk it out.
6. Not true, [blank]…Not true…It's just not true.
7. I will let you absolutely…[interuption] OK. Will — will — you certainly will have lots of time here coming up.
8. It sounds like we have a lot to talk about.
9. And very little of what [blank] just said is true.
10. I won't say [blank] is right.
11. And the answer is, I don't believe people think that's the case.
12. Don't get involved, this is their issue.
13. I don't like it Candy/Andy. I don't like it.
14. I don't think so, Candy/Andy.
15. This is a family issue.
16. What parent would have a child and not want their child to be the very best and do the very best?
17. Well this has definitely been a year of change from me.
18. That is……is completely…is completely……is completely false. Let me tell you…
19. Kiss my titties.
ANSWERS
1. Debate
2. Real Housewives of OC
3. Real Housewives of NJ
4. Debate
5. Real Housewives of BH
6. Debate
7. Debate
8. Real Housewives of NJ
9. Debate
10. Real Housewives of BH
11. Debate
12. Real Housewives of NJ
13. Real Housewives of NY
14. Debate
15. Debate
16. Real Housewives of ATL
17. Real Housewives of OC
18. Debate
19. Real Housewives of NJ
Follow Brian Moylan on Twitter @BrianJMoylan
[Photo Credit: Getty Images; Bravo]
More:
'Real Housewives of New York' Recap: The Resurrection of Jill Zarin
'Real Housewives of OC' Reunion: Who Won?
'Real Housewives of New York' Reunion Recap: Is This Over Yet?
From Our Partners:

'Twilight' Star Kristen Stewart Drops 2.2M on L.A. Home Near Robert Pattinson — PHOTOS
(Celebuzz)

Rihanna to Earn $8 Million for Turning on Christmas Lights: 14 Celebrity Appearance Fees Revealed
(Celebuzz)