Armie Hammer to the Rescue: Casting 'Justice League' with Real Life Superheroes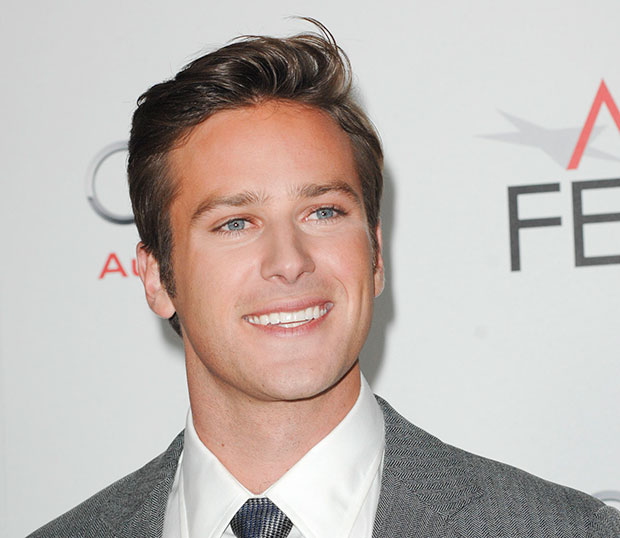 When the long-awaited DC Comics film Justice League finally comes to fruition, audiences will undoubtedly revel in the glorious heroism of the crime-fighting, humanity-saving forces onscreen: Superman, Batman, Wonder Woman and the like. A troupe of characters so wholly admirable that they in turn deserve performers equally as gallant to take on the task of portraying them. Talks have attached Armie Hammer to take over as the Dark Knight for this ensemble picture, and we can see why — dude is a bona fide hero. E! reports that Hammer was among several individuals who provided assistance to strangers following a car accident on Friday night.
Model Leann Tweeden, who was also among the good Samaritans who came to the aid of troubled parties after a crash on her busy street corner, revealed to E! that Hammer was a member of the ad-hoc rescue party."It's me and this guy helping the woman (2 other girls are there. One was a witness on her Vespa. The other in her car in the parking lot of the flower shop.) … When the guy turns around, who is it?!!!! None other than: ARMIE HAMMER!!!!! (Yes, from The Social Network, J. Edgar and the upcoming The Lone Ranger with Johnny Depp!) … The cutie Armie was in the opposite turn lane in his Audi and watched the whole thing go down and got out of his car to help."Bam. Hero. Batman status. As you can imagine, we're pretty sold on the Winklevoss taking on the role of Bruce Wayne in the developing DC assembly. And luckily, there are enough other day-savers in the acting game to comprise the rest of the cast. Check it out, Warner Bros, we've done all your casting for you.
Kate Winslet as Wonder Woman
Remember when Rose DeWitt Bukater saved two children and Richard Branson's mother from a burning building on the millionaire's private island? That's worthy of landing her the role of Diana Prince.
Patrick Dempsey as Green Lantern
Back in April, Dempsey helped saved a 17-year-old Malibu resident from his flipped car, using a crowbar and a fire extinguisher as his tools. Imagine if he had the Power Ring: that kid would have been out in seconds flat.
Anderson Cooper as The Flash
I know he's not an actor, but he is the best human to ever live. Remember when Anderson Cooper halted a news report of the atrocities in Haiti to tend to a wounded young boy? We dub thee Barry Allen.
T.I. as Aquaman
In a different turn of events, rapper T.I. once talked a man out of killing himself. Speaking to the man through a video stream, T.I. convinced the man (who was planning on jumping off a building in Atlanta) to come down to safety, promising to speak with him and encouraging to seek psychiatric help.
Werner Herzog as The Martian Manhunter
Dude got shot mid-interview with the press (we say "mid" because he actually insisted on continuing the interview), and once saved Joaquin Phoenix from a burning car. Werner freakin' Herzog.
Ryan Gosling as Superman
Because who else could pull off the most wonderful figure in superhero lore but the fight-stopping, car accident-preventing Ryan Gosling? Nobody. No offense, Henry Cavill.
[Photo Credit: Apega/WENN]
More:
'Justice League' Movie Planned for Summer 2015
Screw the Tabloids: Adele Has the Classiest Baby Birth in Years
Justin Timberlake and Jessica Biel's Wedding Details (and Dress!) Revealed
From Our Partners:

Donald Trump Speaks Out on Ripping Kristen Stewart on Twitter, Warns Robert Pattinson: 'Back Off…She's Bad News!' — EXCLUSIVE
(Celebuzz)

Emily VanCamp, Lea Michele, January Jones: Celebrities Who Show Major Cleavage in GQ — GALLERY
(Celebuzz)