Faulkner Turns Over in His Grave as Cover of 'As I Lay Dying' Featuring James Franco Hits Shelves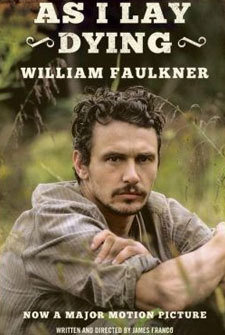 "Now a major motion picture" is the worst thing that can ever happen to a book — short of, say, an open flame. And in this day and age, no one is safe. It happened to Life of Pi; it happened to The Great Gatsby; heck, it happened to Tolkien's The Lord of the Rings trilogy. And now it has happened to William Faulkner. James Franco's scowling mug now takes up 70% of the cover for As I Lay Dying. 
Since our copies of the novel are lovingly battered, dog-eared, and annotated, and, that being the way we like it, we haven't been in the market for a new edition recently, we didn't make this discovery until Time Out New York's Keith Uhlich tweeted the travesty (below). A facepalm has never been so well deserved. 
Oh for fuck's sake. pic.twitter.com/3V0dMgB9fI

— Keith Uhlich (@keithuhlich) September 12, 2013
We've been skeptical of this adaptation for a long time, due less to Franco's involvement than to the seemily unadaptable nature of the book, but now we hate it. We hate the whole project and what it's doing to American literature. We hate James Franco's stupid face. (Well, not really, but it's about as close as we've ever come.) We need someone to blame for this crime against literature, and he's literally the poster boy. 
More:
James Franco Gets Intense in 'As I Lay Dying' Trailer
12 Best Lines from James Franco's Comedy Central Roast 
Check Out James Franco's LinkedIn: He's Had Every Job Ever
Follow @hollywood_com
| Follow @abbeystone
---
From Our Partners:


A Complete History Of Twerking (1993-2013) (Vh1)


15 Stars Share Secrets of their Sex Lives (Celebuzz)