From Ashlee Simpson To Britney Spears: Pop's Biggest Car Crash TV Performances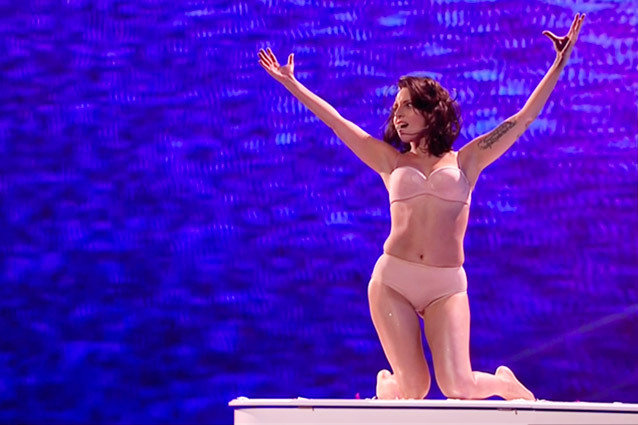 YouTube
Following a critically-slated headline set at the iTunes Festival in September, Lady Gaga was given the opportunity to make amends when she appeared on The X-Factor UK results show last month. But instead she gave an even bigger car-crash performance as she writhed around the stage dressed in a flesh-coloured outfit which left little to the imagination while breathlessly performing a medley of songs that no-one knew in the manner of an attention-seeking drama student. But she's not the only pop star to get it so hopelessly wrong live on TV. Here's a look at five others who should probably stick to pre-records only.
Everyone does it. But poor Ashlee Simpson had the misfortune to get caught out when a mix-up with her pre-recorded backing track proved she intended to lip-synch her performance of "Pieces Of Me" on Saturday Night Live in 2004. The bizarre little jig and embarrassingly unconvincing explanation which followed didn't exactly help matters either.
Arguably more sad than scandalous, Britney Spears appeared totally disoriented as she forgot both the lyrics and dance moves to her hit "Gimme More" during the 2007 MTV Video Music Awards. In the midst of a very public breakdown at the time, it remains a mystery why her team allowed her to appear on stage in the first place.
Just a week after a similarly disastrous performance on American Idol earlier this year, Mariah Carey dismally failed to hit the kind of glass-shattering notes she's renowned for during a performance of "#Beautiful" on Good Morning America which left all the animals in the area running for cover.
The Girls Aloud star seemed to have little trouble hearing the vocal track she was miming along to on last year's Stand Up To Cancer telethon. Unfortunately the audience both in the studio and at home did, meaning that she spent the entire performance appearing to breathlessly lip-synch along to an instrumental.
Responsible for possibly the longest 90 seconds in music TV history, British folk-rock outfit All About Eve spent the first half of their debut Top Of The Pops performance silently gazing into the distance after a technical error meant they couldn't hear their Top 10 hit "Martha's Harbour" being played until it was far far too late.