Ashton Kutcher and Mila Kunis Hang Out, Down the Street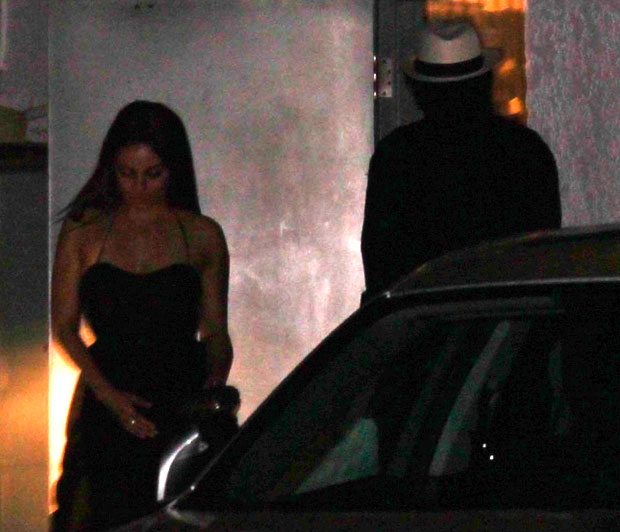 Here's a treat for all of you '90s nostalgia lovers out there: It looks like Ashton Kutcher and Mila Kunis really have been hanging out … down the street. Was this the same old thing they did last week? We're not sure, but we got our hands on new photos of Kunis and Kutcher dining at Giorgio Baldi's, a very romantic spot in Santa Monica that is not technically down the street, but I can ride there on my bike. Two months ago the couple reportedly vacationed in a small beach town near Santa Barbara, and this new evidence greatly supports the popular theory that Michael Kelso has replaced his ex-wife with his stoner ex-girlfriend, Jackie Burkhart.
This late '90s-era coupling has us thinking: What other "fictional" '90s couple should get together, ASAP? We know Courtney Cox is recently single, and a new pilot combined with a recent stint on The Good Wife has confirmed the fact that Matthew Perry is still alive. These two make a stellar pair, but the best part is how good they are at keeping their romance a secret from their friends. My personal choice is a little less obvious: Remember Doug Funnie and Patti Mayonnaise? Funnie's strange obsession with his fictional alter-ego Quailman has rendered him a perma-virgin, though he is a huge hit at Comic-Con. Mayonnaise went through a bad boy phase and married Roger Klotz, but that one ended when he impregnated a groupie during his band's 2011 comeback tour. I still think Doug and Patti deserve each other, even though Doug did sort of destroy Patti's childhood home by throwing rocks at it that one time. Oh, the follies of youth!
What '90s couple do you want to see canoodling in the tabloids? Cory and Topanga? Danielle Fishel is still single, since that whole Lance Bass experiment didn't exactly work out. Give her a call, Ben Savage! Vote in the poll and be sure to let us know your thoughts on these couplings in the comments.
Follow Shaunna on Twitter @HWShaunna
[PHOTO CREDIT: AKM-GSI]
MORE:
Ashton Kutcher & Mila Kunis Dating? 'That '70s Show' Fan Fiction May Come True
Ashton Kutcher & Mila Kunis Sign on for 'That '70s Show' Reunion