Ashton Kutcher Criticized for Racist 'Brownface' Ad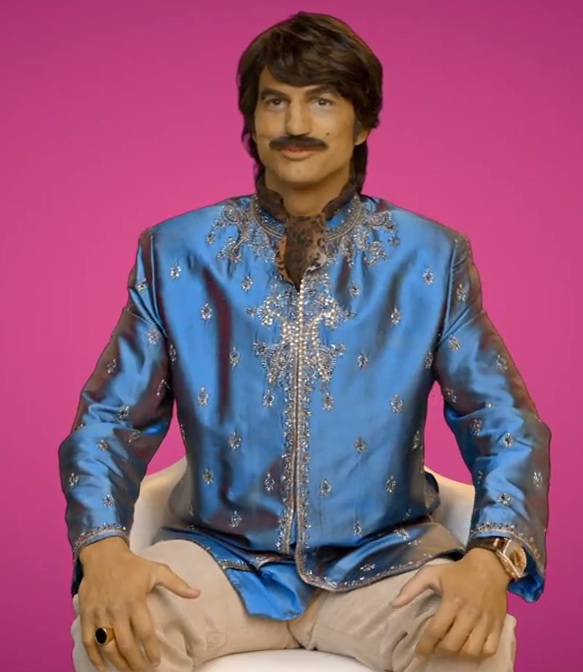 Ashton Kutcher has landed in some hot water. What was supposed to be a light-hearted ad promoting Popchips quickly tuned into a PR disaster when the actor was met with criticism for sporting "brownface." In a video for the campaign, Kutcher plays a character named Raj, a Bollywood Producer looking for love — but some viewers weren't laughing. After some called the ad was outright racist, the video was pulled from Popchips' website.
The complaints apparently got so intense and numerous that Popchips Founder and CEO Keith Belling issued a statement on the company's website on Wednesday. "We received a lot feedback about the dating campaign parody we launched today and appreciate everyone who took the time to share their point of view," he said. "Our team worked hard to create a light-hearted parody featuring a variety of characters that was meant to provide a few laughs. We did not intend to offend anyone. I take full responsibility and apologize to anyone we offended." While the video is no longer available on Popchips website, it still can be seen on Youtube.
This is the latest in a series of public setbacks for the actor: In the past year, he's split with his wife Demi Moore following infidelity accusations and stopped writing his own tweets after suffering backlash for defending Penn State's Joe Paterno on the social media network. Still, the actor is enjoying success on the small screen, where he's on the verge of locking in a $16 million dollar contract for Season 10 of Two and a Half Men.
Watch the video below.
More:
Ashton Kutcher Is Trying Online Dating